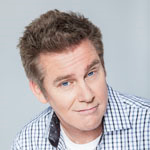 "He is one of my favorite, favorite stand-up comedians." - Jerry Seinfeld
Worcester, MA (PRWEB) October 03, 2014
Comedian BRIAN REGAN announces spring tour dates in his 10-year, non-stop theater tour with tickets going on sale today at 10AM. The spring 2015 leg will visit 39 cities; bringing Regan to The Hanover Theatre for the Performing Arts in Worcester on Sunday, March 15 at 8PM. Tickets can be purchased online at TheHanoverTheatre.org, by phone at 877.571.SHOW (7469), or at The Hanover Theatre box office located at 2 Southbridge Street in downtown Worcester.
Regan will be seen in the upcoming Chris Rock movie, "Top Five," and he was nominated for a 2014 American Comedy Award for Best Concert Comic. In February 2014, Regan performed two sold-out shows at the 12,500-seat EnergySolutions Arena in Salt Lake City, and in August of 2013, Regan sold out the legendary, 8,600-seat Red Rocks Amphitheater outside of Denver.
One of the most respected comedians in the country, Regan has earned the praise of the press, the public, and fellow comedians:
"He is one of my favorite, favorite stand-up comedians." - Jerry Seinfeld
"Honestly, Brian Regan's the best stand-up working today. Period." – Patton Oswalt
"You're the guy people look up to…Brian Regan's the funniest guy…there's Brian Regan and then there's other people." – Marc Maron
"I'll take all of that guy you got…Very funny man." – David Letterman
With his first appearance on "The Late Show with David Letterman" in 1995, Regan solidified his place on the show and recently made his 26th appearance, the most of any comedian on the CBS show. Occasionally venturing off of the stand-up stage, Regan recently appeared in Seinfeld's "Comedians in Cars Getting Coffee" and he voiced the character of Weib Lunk for the 40th episode of The Looney Tunes Show titled, "Spread Those Wings and Fly."
For more information, please visit BrianRegan.com.
Tickets to BRIAN REGAN are $39.50*, with a 10% discount available to members of The Hanover Theatre, groups of 10 or more, and WOO Card holders. Tickets are available online at TheHanoverTheatre.org, by phone at 877.571.SHOW (7469) or at The Hanover Theatre box office located at 2 Southbridge Street in downtown Worcester.
About The Hanover Theatre
The Hanover Theatre continues to draw over 170,000 patrons annually with world-class performances and headlining acts including Broadway hits ("Les Misérables," "Mary Poppins," "Jersey Boys"); comedians (Steve Martin, George Carlin, Bill Cosby); musical acts (Neil Young, Aretha Franklin, The Moody Blues, Diana Ross); and everything in between ("A Christmas Carol," Maya Angelou, Rudy Giuliani, Alvin Ailey American Dance Theatre). Ranked by POLLSTAR as one of the Top 50 Theatres in the World, the theatre opened in March of 2008 following a $32 million historic renovation. Over the last seven seasons, the theatre has established its place as a world-class performing arts venue, acting as a catalyst for the economic development of downtown Worcester. For more information, visit TheHanoverTheatre.org. Worcester Center for the Performing Arts, a registered not-for-profit 501(c)(3) organization, owns and operates The Hanover Theatre for the Performing Arts. All donations are tax deductible to the fullest extent allowed by law.
*Ticket prices are subject to change without notice.