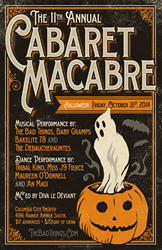 Over the last 11 years we've featured everything from suspension piercing to bellydance to aerial performance to burlesque...this year we wanted to focus on the wealth of world-class talent that Seattle provides both musically and performance-wise.
Seattle, WA (PRWEB) October 02, 2014
Hosted by northwest cabaret punks The Bad Things, Seattle's longest-running showcase of dark cabaret, Cabaret Macabre, will celebrate its 11th year at Columbia City Theater this Halloween – Friday, October 31st. Tickets available via Brown Paper Tickets: http://www.brownpapertickets.com/event/843710 Additional performers include the prohibition-era jazz of Bakelite 78, the klezmer-swing of The Debaucherauntes, tribal bellydance troupe The Tribal Kind, Cabaret Macabre co-producer and solo fusion dancer Miss J9 Fierce, gothic-inspired bellydance from Maureen O'Donnell and creator of the "Tarot of the Pomegranate The Major Arcana" tarot deck, performance artist and dancer An-Magrith Erlandsen. The evening will be MC'd by foul-mouthed headmistress Diva Le Deviant, known for her work with Sinner Saint Burlesque, Seattle's longest-running weekly burlesque revue until 2013 when its venue The Noc Noc closed its doors.
"Over the last 11 years we've featured everything from suspension piercing to bellydance to aerial performance to burlesque," said Jimmy "The Pickpocket" Berg, producer and founder of Cabaret Macabre and lead vocalist/accordionist of The Bad Things. "While in years past we've featured performers from around the world, the last couple years have been focused on the wealth of world-class talent that Seattle provides both musically and performance-wise."
Originally hosted in an old warehouse in Georgetown in 2004, Cabaret Macabre has since been held at ACT Theater, FRED Wildlife Refuge, Jules Maes Saloon and the Columbia City Theater. It was the birthing ground of some of Seattle's performance institutions such as PURE Cirkus and Seattle Semi-Pro Wrestling and has featured such celebrated performers as Hacki Ginda, the award-winning clown from Berlin known locally for his appearances in the Moisture Festival; Thomas Truax, New York-based inventor of experimental musical instruments; Danbert Nobacon, co-founder of UK anarcho-pop group Chumbawamba; LA-based cabaret songstress Eliza Rickman and legendary Boston cabaret-rockers Reverend Glasseye. The Bad Things and Baby Gramps have performed every year since Cabaret Macabre's inception.
This year will focus on Seattle-based talent with dance performance intermingling with musical acts. Expect an exciting evening filled with dark, vintage-inspired music, gothic-infused dance performance, sassy and sexy interludes and excessive Halloween pageantry all housed within the historical walls of the Columbia City Theater.
Tickets are $17/$20 day of show via Brown Paper Tickets at: http://www.brownpapertickets.com/event/843710. Also full weekend passes that include admission to La Petite Mort's Dark Cabaret at Columbia City Theater on Saturday, Nov. 1St are available for $30 at: http://www.brownpapertickets.com/event/843710. More information on both nights can be found at https://www.facebook.com/events/634079570040646/?ref=5 and https://www.facebook.com/events/548487938611880/
###
EDITOR'S NOTE: High-resolution photos are available. If you would like to interview Jimmy the Pickpocket, Miss J9 Fierce or Baby Gramps by phone, or if you'd like any of the dance performers to appear in-studio, call Jimmy the Pickpocket at 206-384-3341. The Bad Things or Baby Gramps can perform live in-studio or we could feature one or more of the dancers in full costume as a way to obtain your own unique angle for covering The 11th Annual Cabaret Macabre.
More About the Headliners:
The Bad Things (http://www.thebadthings.com): In 2002. The Bad Things formed out of the ashes of A Midnite Choir, a cult favorite in Seattle's underground cabaret scene. Members Jimmy "the Pickpocket" Berg (accordion, vocals) and Austin "Mad Wilcox" Quist (upright bass, musical saw) began as a two-piece, busking on the wet, Seattle sidewalks under the "Bad Things" moniker. The band eventually grew into the 6-piece ensemble that you see today which includes Beau "Stanislav the Gypsy" Hebert (acoustic guitar/mandolin), G. Miles "Captain" Panto (banjo/electric guitar), Brendan Patrick Hogan (trumpet/keys) and Steve "Lord" Kamke (drums and percussion). The band has released four albums in their 12 years together: 2004's "The Bad Things, 2006's "Vaudeville Show", 2008's "It'll All Be Over Soon" and their most recent release "After the Inferno" released this past September 2014 to rave reviews from national press. They also recorded an album in 2010 with Chumbawamba co-founder Danbert Nobacon entitled "Woebegone". The band has played thousands of shows including appearances at Bumbershoot, REVERB Music Festival, Northwest Folklife Festival, the Georgetown Music Festival and this year's Macefield Music Festival. They've also appeared on Nancy Guppy's ArtZone and provided the soundtrack to a 2013 Super Bowl commercial for the Dunder Mifflin paper line by Quill.
Baby Gramps (http://www.babygramps.com): Baby Gramps is a high energy performer with an endless repertoire. He plays acoustic antique resonator National Steel guitars, and sings his own unique arrangements of rags, jazz, & blues songs from the 20's & 30's, folk songs, and many originals with wordplay, humor, and throat singing. He appeals to a wide range of audiences from folk to jam band to punk to old timey traditional and to kids of all ages. Venues he performs at vary from intimate coffeehouses and pubs, to large concert halls, theaters, and festivals across the States, Canada, Europe, and Australia. According to an article in Seattle Metropolitan Magazine, Baby Gramps is acknowledged as one of the top 50 most influential musicians in the last 100 years along with Ray Charles, Jelly Roll Morton, Jimi Hendrix, Quincy Jones, The Wailers, The Ventures, Sound Garden, and Pearl Jam. He is credited with making Seattle audiences aware of old blues and novelty songs that the rest of the world has mostly forgotten. Baby Gramps toured Australia, England, and Ireland as part of the "Rogues Gallery: Pirate Ballads, Sea Songs, and Chanteys" CD Concert Tour with Tim Robbins (actor), Marianne Faithful, Martha and Rufus Wainwright, Jenny Muldaur, Lou Reed, The Watersons, Martin Carthy and Eliza, Suzanne Vega, Ralph Steadman, and many other internationally know performers. "The Rogues Gallery" CD, produced by Johnny Depp and Hal Wilner in connection with The Pirates of the Caribbean film, landed Baby Gramps on the David Letterman Show.
Brown Paper Tickets (http://www.BrownPaperTickets.com), the world's only Not-Just-For-Profit ticketing company, creates stronger communities through events, donations and a business model that prioritizes helping people and supporting community over making profits. The company offers sophisticated ticketing and event registration tools at the lowest fees in the industry, donates 5 percent of its profits to causes in the category of each ticket buyers choice, pays employees a week's salary each year to work for nonprofits, and employs a team of "Doers" to build healthy communities.