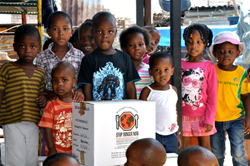 (PRWEB) October 02, 2014
October is World Hunger Action Month, celebrated by Stop Hunger Now to raise awareness about hunger and to empower local communities to help create a world without hunger. World Hunger Action Month activities aim to actively engage and empower communities by providing opportunities to make a difference through volunteering, advocacy, or donating on behalf of the world's hungry.
World Hunger Action Month is held in conjunction with World Food Day, commemorated annually on October 16th, and is an opportunity to motivate and energize the volunteer community to take action such as organizing a Stop Hunger Now meal packaging event.
"Stop Hunger Now is asking corporate, community civic and faith leaders to help spread the word, take action and make an impact to end hunger around the globe," says Rod Brooks, President and Chief Executive Officer of Stop Hunger Now. "Hunger is solvable and is the common thread among the world's most challenging issues. When hunger is targeted, you give leverage and hope to every other cause including poverty, disease, education and the welfare of women and children."
Around the world, more than 805 million people lack adequate food and more than 25,000 die each day from hunger-related illnesses. Stop Hunger Now operates meal packaging locations in 18 cities throughout the U.S. and international locations in South Africa, Italy, Malaysia and the Philippines.
Groups of all sizes and ages can organize a meal packaging event with Stop Hunger Now to assemble meals consisting of rice, soy, dehydrated, vegetables, and vitamins that are used to support development programs such as school feeding programs, vocational training programs, early childhood development programs, orphanages, and medical clinics. Working with these programs helps enhance lives by giving beneficiaries the opportunity to break the cycle of poverty through education, skills development, and health care while also receiving much needed nutrition.
Stop Hunger Now is slated to facilitate more than 200 meal packaging events around the world during World Hunger Action Month. Highlights include large-scale meal packaging with SanDisk in Shanghi, China, the Southern Association of Student Councils in Atlanta, GA, the Dreamforce Conference in San Francisco, and Wilton Interfaith Action Group in New England.
To learn more about how to take action, follow Stop Hunger Now on Facebook at https://www.facebook.com/stophungernow or on Twitter at https://twitter.com/Stop_Hunger_Now
About Stop Hunger Now
For more than 15 years, Stop Hunger Now has been creating a movement to end hunger. More than 160,000,000 meals have been packaged and distributed along with other aid to 65 countries impacting millions of lives. The organization is driven by a mission to end hunger in our lifetime by providing food and life-saving aid to the world's most vulnerable and by creating a global commitment to mobilize the necessary resources.
The Stop Hunger Now meal packaging program was created to give dedicated individuals the opportunity to participate in a hands-on international hunger relief program and to become educated, engaged advocates for the world's poor and hungry. In 2013, Stop Hunger Now packaged 38.6 million meals in the U.S. and International Affiliates packaged an additional 3.3 million meals.
In its efforts to respond to emergency needs around the world Stop Hunger Now receives and distributes significant donations of in-kind aid. These donations are large quantities of food, medicines, medical supplies and other such items as may be of use in fighting hunger and providing relief in a crisis.