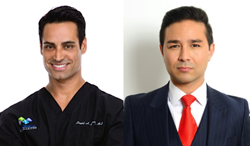 NY Heart Health Clinics are among a very few centers in the world utilizing IVUS technology to guide minimally invasive cardiovascular surgery to achieve optimal outcomes
New York, NY (PRWEB) October 01, 2014
"Deep Vein Thrombosis, or DVT is among the top three leading cardiovascular diseases in the country, yet many people are unaware of its symptoms and associated risks," says Dr. David Greuner, co-founder of NY Heart Health Clinics. "An advanced screening technology called IVUS, or 'intravascular ultrasound' is assisting us to make more precise treatment decisions for each patient."
A New Type Of Ultrasound Screening For DVT
"IVUS uses a catheter with a miniature high definition ultrasound probe that can enter the blood vessel and measure the interior of the vessel with high accuracy to guide therapeutic decisions," says Dr. Greuner. "NY Heart Health Clinics are among a very few centers in the world utilizing IVUS technology to guide minimally invasive cardiovascular surgery and its results to achieve optimal outcomes."
Dr David Luu, heart surgeon and NY Heart Health Clinics co-founder  says that most people know that a sedentary lifestyle increases the risk of cardiovascular disease, obesity and diabetes but very few are aware of the fact that prolonged immobility in the workplace increases the risk of developing a potentially fatal blood clot. "NY Heart Health Clinics' mission is to educate people regarding the risks associated with sitting down for long periods, to offer strategies to change their work practices and provide corporate on-site DVT screening programs."
"Traveling by air for four or more hours doubles the risk for several weeks after the trip," says  Dr. Luu. Recent guidelines advise air travelers to try to avoid the window seat on a plane. Sitting in the window seat could increase the risk of deep vein thrombosis because passengers may be discouraged from disturbing fellow passengers in order to stand up and walk around to stretch their calf muscles. These guidelines, published by the American College of Chest Physicians suggest that a person's risk of developing DVT should be considered when choosing a plane seat.
"DVT results from the formation of a blood clot inside a deep vein of the leg, usually in the calf or thigh," says Dr. Greuner. "A blood clot can be easily treated once detected, but if left untreated the clot can break free and travel to the lungs causing a pulmonary embolism which in extreme cases can result in sudden death." Symptoms of DVT include pain, swelling and discoloration.
For more information on screening and treatment for deep vein thrombosis call NY Heart Health Clinics at NYC Surgical Associates, 888.286.6600 and visit http://www.nycsurgical.net. Clinics are located in Manhattan, Brooklyn, Long Island, The Hamptons and New Jersey.
#####