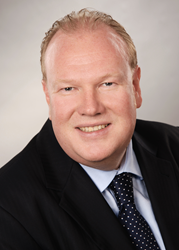 Bern, Switzerland (PRWEB) October 02, 2014
In appointing Jörg Vollmer, Swiss Post is sending out a clear signal regarding the further development of the business process outsourcing (BPO) segment. In his current function as Vice President, the 47-year-old is responsible for the European BPO business of Hewlett-Packard where he has headed up the development of the business unit in various roles since 2005 and managed more than 6,000 staff in document management, accounting, human resources and customer relationship management. On 1 January 2015, he will succeed Frank Marthaler, who left Swiss Post at the end of June 2014. Jörg Vollmer is married and has two grown-up children.
Market position strengthened
With his longstanding experience in strategy development and implementation in various countries, German-born Vollmer has extensive expertise and an intuitive feel for the inter-nationally focused business of Swiss Post Solutions. Swiss Post Solutions offers solutions for business process outsourcing and secure electronic communication. Jörg Vollmer will continue to pursue the group unit's strategic path in order to strengthen its leading market position, especially within document management and information processing. A further goal will be the ongoing optimization of business processes in line with customer requirements.