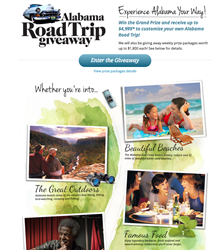 A promotion of this caliber highlights the quality, diversity and beauty of destinations that make Alabama attractive to tourists
Montgomery, Alabama (PRWEB) October 02, 2014
The Alabama Tourism Department has announced that the Alabama Road Trip Giveaway wrapped with winners chosen from Texas, Louisiana, District of Columbia, Alabama and Georgia. A winner was randomly selected each week for six weeks for a special weekly prize worth up to $1,800 each. Packages included transportation, accommodations, meals, plus admission to destination area attractions and events. One grand prize winner was chosen to receive up to $4,999 to customize his/her own Alabama road trip.
Highlights from the promotion included:

46,533 total entries
More than 71,533 visits to the Alabama Road Trip Giveaway website, http://www.roadtripgiveaway.com
8,353 Facebook fans acquired during the promotion, a 18.2% increase.
"A promotion of this caliber highlights the quality, diversity and beauty of destinations that make Alabama attractive to tourists," said Lee Sentell, Director of the Alabama Tourism Department. "We are pleased to rally our industry partners to showcase our state to visitors in such a unique way."
For more travel ideas and road trip suggestions, please visit
http://www.alabama.travel/road-trips.
About the Alabama Tourism Department
The Alabama Tourism Department (ATD) helps ensure that Alabama's economy gains maximum benefits from tourism. More than 24 million travelers spent a combined total of $11 billion in the state in 2013, supporting the jobs of more than 163,000 Alabamians. The agency was created in October 1951 by legislative act to promote travel to and through Alabama. It does this both nationally and internationally. ATD is funded by one-fourth of the 4 percent state lodgings tax collected by hotels, motels, campgrounds and other accommodations.