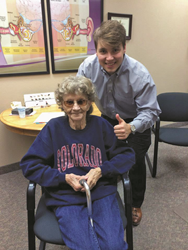 "Helping people hear better is our mission, and this year we are not only proud, but excited to provide the gift of hearing to 100 Colorado seniors who would not otherwise have the opportunity to reclaim this gift." Dr. John Curran, Director of Operations
Denver, CO (PRWEB) October 15, 2014
More than $300,000 of free hearing aids and services are being donated to 100 seniors on October 25th, 2014 at the Arvada K-8 school as part of Make A Difference Day, a national day of service sponsored by USA WEEKEND. For more than 20 years, USA WEEKEND Magazine and Points of Light have joined together to sponsor Make A Difference Day, the largest national day of community services. Hearing Rehab Center is joining millions of volunteers around the world in a common mission to improve the lives of others.
Hearing loss is a significant problem for thousands of seniors which is why Hearing Rehab Center, Colorado's premier audiology and hearing aid provider is proud to join the Colorado Gerontological Society (CGS) in Make a Difference Day locally. Hearing Rehab Center has made a commitment to fit 100 seniors with hearing instruments who do not have the financial means to otherwise hear better. Many of these seniors have been on the waiting list at the CGS for more than a year.
Hearing Rehab Center continuously supports Make A Difference Day helping low income seniors to reduce social isolation and engage with family and friends in a more meaningful way. Hearing Rehab Center's Doctors of Audiology help find the best hearing care solutions for their patients and pride themselves on educating patients so they feel comfortable and motivated to improve their hearing. To nominate someone in need for future events, visit http://www.hearingrehabcenter.com/make-difference-day/
Dr. John Curran, Hearing Rehab Center's Director of Operations comments, "Helping people hear better is our mission, and this year we are not only proud, but excited to provide the gift of hearing to 100 Colorado seniors who would not otherwise have the opportunity to reclaim this gift. There is no better feeling than helping people hear better, especially those in need. That is why we are passionate about what we do every day."
###
About Hearing Rehab Center
Founded in 1996, Hearing Rehab Center is Colorado's premier Audiology and hearing aid provider. As Audiologists, we believe our job is to provide customized solutions to help people hear better. HRC has 18 locations throughout Denver and the Front Range.
Press Contact:
Sheana Emerson
970.644.5057
sheana(at)hearingrehabcenter(dot)com
http://www.hearingrehabcenter.com