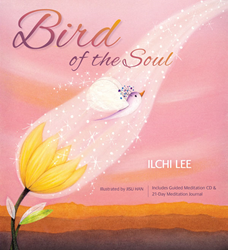 (PRWEB) October 04, 2014
"Bird of the Soul" by Ilchi Lee and illustrated by Jisu Han, from which many readers have regained hope, has been remade into a twenty-minute animation to be released publicly on YouTube on October 3, 2014. The entire story is told in the animation.
Originally animated in South Korea, this English version features the voices of well-established voice actors Steve Nunez and Kira Buckland. Its whimsical style is based on the colorful and cheerful illustrations in the book, which take viewers back to the openness and imagination of childhood. Additional bonuses to the animation are two songs new to the English version, which were composed and played by artist Chris Yanson and sung by Kira Buckland.
Like the book, which includes a meditation CD and journal, the animation of "Bird of the Soul" reminds viewers of the importance of staying connected to their deepest inner voice, their soul, which is always offering encouragement and advice. That voice is represented by a sweet bird that nests in the heart. The bird also represents the sense of freedom found when one keeps one's ears open to the voice of the soul. The book and animation illustrate that that freedom comes from a sincere trust in ourselves and the courage to imagine what we really want.
The main protagonist in the story, Jay, loses touch with his soul as he grows up and focuses outside of himself more and more. The action of the story reaches a climax when Jay has achieved what would commonly be called a "good life," but isn't really happy. He finds new hope for his life when he reconnects with the bird of his soul.
Through this accessible work for all ages, as you travel with the protagonist on his journey through life, Ilchi Lee said he hoped that "you regain that which is precious and important, that which you may have forgotten."
Neale Donald Walsch, bestselling author of the "Conversations with God Series" seems to think that you can. He noted that "with this sweet and gentle book, 'Bird of the Soul,' Ilchi Lee has opened the door for a child's rich and deep understanding, which, in turn, can lead them to a full and rewarding life." Christiane Northrup, M.D., ob/gyn physician and author of the "New York Times" bestsellers "Women's Bodies, Women's Wisdom" and "The Wisdom of Menopause" agreed that "This is a beautiful book, lovely. Its message resonates deeply."
This message has been reaching and resonating with many people through the Bird of the Soul Book Drive, which the non-profit Dahn Yoga Foundation began last May with the support of the book's publisher, Best Life Media. Almost 3,000 books have been donated to over 100 organizations so far. Children and adults in schools, senior centers, churches, and even prisons have become excited about "Bird of the Soul."
One woman who regularly taught Dahn Yoga at an Arizona Correctional Facility in Phoenix read "Bird of the Soul" in her classes and led the inmates in the meditation that is included in the book. She noted, "What I witnessed on their faces was a glow, a spark of hope and understanding. Some started to open up for the first time, sharing their struggles of guilt and shame. Others remarked about the joy and hope brought to them by the journey of the story."
Dahn Yoga Foundation regularly supports community-based Dahn Yoga classes as part of its commitment to creating a healthier and more peaceful society. It also organizes other community activities, such as park cleaning, tree planting and walk-a-thons.
Author Ilchi Lee has penned 34 books besides "Bird of the Soul," including the "New York Times" bestseller, "The Call of Sedona: Journey of the Heart." An impassioned visionary, educator, mentor, and innovator, he has developed many successful mind-body training methods, including Dahn Yoga and Brain Education. He is also a well-respected humanitarian who has been working with the United Nations and other organizations for global peace. More about Ilchi Lee can be found on his personal website, ilchi.com.
Best Life Media is an independent publisher located in Sedona, Arizona that produces books, CDs, DVDs, and other personal growth tools. Its mission is providing positive and supportive resources through which individuals can create happier, healthier, and more peaceful lives for themselves and their community.