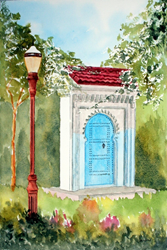 When the opportunity to host our sister-city friends presented itself, we were delighted to say 'yes' because it's a winning idea; everyone gains the opportunity for enrichment through sister-city cultural exchanges
(PRWEB) October 03, 2014
To welcome the delegation from Issaquah's Sister-City, Chefchaouen, Morocco, University House Issaquah is hosting a Delegation Celebration on Friday October 3rd from 3:30pm until 7pm at 22975 SE Black Nugget Road, Issaquah 98029.
The Chefchaouen delegation is staying at University House Issaquah during their visit October 1 through October 7. The October 3rd festivities, which happen on the eve of Salmon Days, include:
3:30pm - Arrival of civil leaders and procession of Chefchaouen delegation.
4pm – Proclamation, Mayor Fred Butler proclaims October 3rd to be Chefchaouen Delegation Celebration day in City of Issaquah, community leaders and sister-city delegates speak.
5pm – 7pm - Issaquah Gateway to Morocco art gala opens, belly dancer performs, wine and Moroccan themed hors d'oeuvres are served.
"Our residents are always excited to support our community and learning with others is a big part of the lifestyle here at University House Issaquah," says University House Issaquah Executive Director, Lynda Krill. "When the opportunity to host our sister-city friends presented itself, we were delighted to say 'yes' because it's a winning idea; everyone gains the opportunity for enrichment through sister-city cultural exchanges."
University House Issaquah, one of Era Living's eight premier retirement communities, offers a warm, vibrant lifestyle, a vast array of amenities, rich programming, and exceptional Independent Living and Assisted Living care.