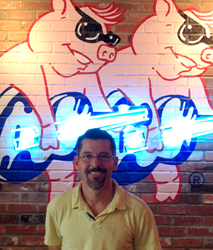 I enjoy interacting with people, making decisions and moving forward to provide the best barbecue and service that we can.
Winston-Salem, NC (PRWEB) November 04, 2014
Randy McCann, President of Red Hot & Blue Restaurants, Inc., welcomed Robert Hubbard to the Red Hot & Blue family on July 24, 2014. Hubbard purchased the Red Hot & Blue franchise in Flower Mound, Texas, which is a natural fit for the Texas native.
Robert Hubbard has been all about Barbecue for over 30 years. And to be specific, he is all about Texas Barbecue.
Hubbard worked his way up from Busboy to Director of Operations at Spring Creek Restaurants before venturing into entrepreneurship with the Red Hot & Blue brand. Learning the restaurant business from the ground up, Hubbard brings expertise in management, purchasing, process implementation and excellence in barbecue techniques to the Red Hot & Blue restaurant in Flower Mound. He says, "I am a simple guy, there's nothing complex about working hard and expecting those around me to work hard to provide the best product" and he emphasizes, "In Texas, the beef [brisket] has to be right."
About the Flower Mound restaurant team he said, "I am a very hands-on owner and have organized an excellent management team with a great group of experienced staff members in place." When asked what was his favorite part of restaurant ownership, Hubbard answered, "I enjoy interacting with people, making decisions and moving forward to provide the best barbecue and service that we can."
Hubbard, his wife of 17 years and their three kids were living in South Carolina when he realized it was time to get back to his roots. "This is where we belong, here in Texas," he stated. "The time was right, the Red Hot & Blue franchise was an excellent opportunity to work for myself and we could get back to Texas where I grew up," said Hubbard. When not at the restaurant, Robert is cheering for his children at the baseball or soccer field in Arlington, and he and his family also enjoy swimming, fishing, hunting and camping.
"We are looking forward to working with Robert," President, Randy McCann said. "Robert's level of experience, his style of management, and his dedication to success are impressive and his enthusiast spirit is contagious. So, if you are in the Flower Mound, Texas area, please stop by 2608 Long Prairie Road to meet Robert Hubbard, the newest member of the Red Hot & Blue franchise family," McCann suggested.
About Red Hot & Blue Restaurants, Incorporated:
Red Hot and Blue Restaurants, Inc. was named in the top 3 "Best Barbecue Chains in America" according to The Daily Meal article originally published on March 5, 2014. Editor Dan Myers sifted through regional preferences to funnel the most popular chains in his list of 10 Best Barbecue chains in America. Criteria for selection was based on: "local renown, consistency of food across all the locations, adherence to traditional barbecue techniques like "low and slow" on-premise smoking, atmosphere and most importantly, if the food tastes good." The full article may found online at: http://www.thedailymeal.com/10-best-barbecue-chains-america/3414
About Red Hot & Blue Restaurants:
The original Red Hot & Blue Restaurant was founded in 1988 in Arlington, Virginia by a group of true Southerners (including three politicians from Tennessee) and a transplanted "Yankee" who could not find authentic slow-smoked Memphis-style barbeque to their liking in the Nation's Capital. Since its start, Red Hot & Blue has grown into 23 locations in 6 states: Maryland, Missouri, New Jersey, North Carolina, Texas, and Virginia, The Red Hot & Blue mission is to "serve only the best quality authentic Memphis-style Barbeque in a fun, casual atmosphere surrounded by blues music and memorabilia." Red Hot & Blue's premier catering services have been serving the Washington DC area for over 25 years at events from birthday, anniversary, baby showers or graduation gatherings, corporate meetings and presentations, retirement parties and family reunions to casual or formal weddings and large banquets. We can accommodate any type occasion from 20 to 10,000 attendees. The experienced Red Hot & Blue Catering Team will customize the menu to fit your party or event plans and budget. For more information, visit http://www.redhotandblue.com
For additional information or franchise opportunities, contact: Randy McCann, President, Red Hot & Blue Restaurants, Inc., 154 Charlois Boulevard, Winston-Salem, North Carolina, 27103. Phone: 336-714-1515.