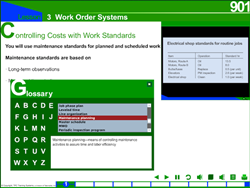 Clients training with TPC Online™ are able to easily locate where training is needed through instant performance feedback reports and then address these knowledge gaps while interacting with course content
Buffalo Grove, IL (PRWEB) October 07, 2014
TPC Training Systems has recently developed seven Maintenance Management titles for its online course library, giving managers on-demand access to supervisory skills' training. Through TPC Online™, administrators are able to add each new title to personalized training plans and assess trainee performance using built-in assessment tests.
TPC's Maintenance Management series covers essential topics that are necessary to successfully supervise and improve performance throughout facility maintenance applications. The series includes the following titles:

Maintenance Organization
Implementing Preventive Maintenance
Controlling Maintenance Resources
Improving Performance in Maintenance
Effective Communication for Supervisors
Employee Relations
Managing a Training Program
"Clients training with TPC Online™ are able to easily locate where training is needed through instant performance feedback reports and then address these knowledge gaps while interacting with course content," said Mike Bocage, Senior TPC Training Solutions Consultant. "Widening our online course library to include the Maintenance Management series delivers all the benefits of online training to an already popular category of maintenance training topics."
TPC Online™ is a web-based learning platform providing access to TPC technical skills and safety courseware, assessment tests, and on-the-job training guides. Designed for both the individual and organizations, TPC Online™ is a true learning management system that is utilized as a total training solution.
For additional information about or TPC Training Systems, visit http://www.tpctraining.com. You can also contact us at 800-837-8872 or http://mailto:sales(at)tpctraining(dot)com.
About TPC Training Systems: TPC Training Systems is a division of Telemedia, LLC a privately held company, with headquarters in Buffalo Grove, IL. A leader in industrial skills and safety training, TPC offers a variety of products and services to support clients' technical and safety skills development needs. TPC's self-study manuals, E-learning programs, and instructor-led training classes have been used at more than 40,000 client sites globally to train over 3.5 million skilled workers.