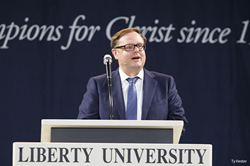 Lynchburg, Va. (PRWEB) October 03, 2014
Two champions of religious liberty visited Liberty University Convocation on Wednesday.
Journalist, author, and Fox News radio host Todd Starnes, in his first Convocation appearance, addressed the current attacks on religious freedom in America.
U.S. Senate candidate from Virginia Ed Gillespie, whom President Jerry Falwell praised as a defender of personal religious liberty and limited government, also addressed the students.
Gillespie, a former White House aide, said his goal was to help restore the God-given dignity of labor to the American work ethic, describing policies that would incentivize work for both employees and employers.
"My grandfather was a janitor. My parents did not go to college. And I got to be counselor to the president of the United States of America. What a country," Gillespie said. "I want future generations and other families to have that same kind of economic opportunity and upward mobility."
President Falwell encouraged students to take advantage of the ability to vote on campus in November's election. He also praised Starnes' own bold stance for Christ in the media.
"If this country had more news reporters like Todd Starnes, it would be wonderful for all of us," President Falwell said.
Calling students to be Champions for Christ amid a hostile culture, Starnes related several accounts from his latest book, "God Less America," describing believers from across the U.S. who did not abandon their faith under pressure, including that of twin 1998 Liberty alumni David and Jason Benham.
"Liberty University, I say this: rise up, oh men of God; rise up, oh women of God, and let the cry go out … that these United States are still and may they always be one nation under God," Starnes said.
Starnes noted the positive impact Liberty students will make on future generations, praising the Liberty Champion as "one of the best student newspapers in the country" with national recognition of excellence in journalism.
"What are we going to do about it?'' Starnes asked, speaking of the ongoing assault on U.S. religious liberty. "The answer is in this room. It is time to raise up thousands and thousands of Champions for Christ who are willing to take a stand in the public marketplace for our Lord and Savior Jesus Christ."
Starnes concluded his address with a stirring reminder that the true, lasting hope is spiritual — not political.
"We know as believers of Jesus Christ that true hope and change cannot be found in the halls of Congress," Starnes said. "True hope and change can only be found at the cross of Calvary in a life changed by the redeeming blood of Jesus Christ."
In the afternoon, Starnes visited a class of journalism students to answer questions and share wisdom from his career. He talked about the importance of working hard and networking early in order to accomplish one's career goals. Starnes said journalism students should be sure that they familiarize themselves with a broad number of skills — such as technology, writing, and broadcasting — but find a few areas that they are experts in so that they may distinguish themselves.
Writing, he said, is a vital skill for any journalist, whether in print or broadcasting. He told students to learn to tell good stories in a way that audiences will understand. Furthermore, he told them to "write with your voice," explaining that putting one's personal style into a story makes it stand out to audiences. Starnes said that they, as Christians in the media, must work extra hard to reflect Christ well, and that although they may not always be preaching the Gospel, they can find opportunities to shine Christ's light and truth in their work by never compromising on their faith.
About Liberty University
Liberty University, founded in 1971, is the largest private, nonprofit university in the nation, the largest university in Virginia, and the largest Christian university in the world. Located near the Blue Ridge Mountains on more than 7,000 acres in Lynchburg, Va., Liberty offers more than 450 unique programs of study from the associate to the doctoral level. More than 200 programs are offered online. Liberty's mission is to train Champions for Christ with the values, knowledge, and skills essential for impacting tomorrow's world.