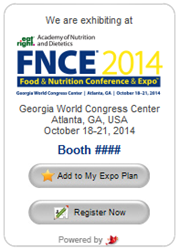 Columbia, MD (PRWEB) October 06, 2014
a2z, Inc., the Maryland-based event management software company, is pleased to announce that the Food & Nutrition Conference & Expo™ (FNCE®) is providing the ChirpE eBooth Promotion Widget to exhibitors for an opportunity to increase their engagement with attendees at the upcoming 2014 FNCE® – the world's largest annual meeting of food and nutrition professionals. This year, the annual event will take place October 18-21, 2014 in Atlanta, GA.
The ChirpE eBooth Promotion Widget offers exhibitors of the 2014 FNCE® an online tool for engaging clients and prospects before the conference starts. The widget allows exhibitors to promote their eBooth on their websites so that attendees can have easy access to their company information, the event website, and register for the event. Exhibitors utilizing the eBooth Promotion Widget can lead to an increase in event ROI and collect valuable pre-show leads. Exhibitors can access their widget from the 2014 FNCE® exhibitor console.
The 2014 FNCE® is a three-day Expo and Educational Conference designed for food and nutrition professionals to learn the latest technologies, discover new innovative products & services, and uncover emerging trends in the nutrition industry. Also, this event is an unmatched marketplace of over 300 exhibitors featuring specialized food products, food delivery equipment, cooking products, food management, nutritional assessment tools, and computer programs and much more.
To learn more about FNCE® 2014, please visit http://www.eatright.org/fnce.
About a2z
a2z, Inc. provides powerful web-based event management tools that grow your show by increasing and accelerating booth sales, helping boost revenue, and enhancing engagement and value for everyone. a2z, Inc. powers more than 850 leading events every year. Our clients benefit from increased connectivity with their audience via an improved website for their attendees and exhibitors and both web-based and native mobile app solutions. a2z offers three platforms as one integrated solution: Expo & Conference Management, Networking & Lead Management, and ChirpE Mobile- which includes our web-based and native mobile apps for smart phone and tablet device.
About the Food & Nutrition Conference & Expo™
The Food & Nutrition Conference & Expo™ is produced by the Academy of Nutrition and Dietetics (Academy). The Academy is the world's largest organization of food and nutrition professionals. The Academy is committed to improving the nation's health and advancing the profession of dietetics through research, education and advocacy.