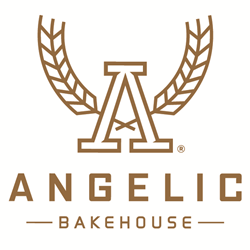 We are thrilled about our continuing expansion, which gives us the opportunity to touch even more lives–that's something that never gets old!" - Jenny Marino, President and CEO of Angelic Bakehouse
CUDAHY, WI (PRWEB) October 06, 2014
Angelic Bakehouse, a leading producer of sprouted whole grain breads and pizza crusts, continues to expand distribution of its sprouted whole grain products through well-known distributors DPI, UNFI and most recently, Tony's Fine Foods. This new partnership with Tony's strengthens Angelic Bakehouse distribution throughout the West coast.
Over the past month, a majority of the entire Angelic Bakehouse product line has been added to 40 Whole Foods Markets throughout Northern California and Northern Nevada, as well as to 12 Nugget Markets, which will carry 10 out of the 14 product SKUs. Angelic's newest products, Flatzza™ crusts and the recently announced Flatzza™ Buddy, will be included in this lineup alongside their sprouted whole grain breads, buns and rolls.
"Our continued growth within Whole Foods Markets is an exciting sign of a great partnership, and our newly established partnership with Tony's Fine Foods will help maintain our growth and momentum," said Jenny Marino, President and CEO of Angelic Bakehouse. "We regularly hear from people who appreciate that our products are made with allergen-safe, simple ingredients and are both nutritious and tasty. We are thrilled about our continuing expansion, which gives us the opportunity to touch even more lives–that's something that never gets old!"
For more information about Whole Foods Markets and other stores that carry Angelic Bakehouse products, visit http://www.angelicbakehouse.com/locations.
About Angelic Bakehouse
Angelic Bakehouse is one of a handful of companies in the United States that uses freshly ground, sprouted grains – whole grains in their purest form – to create natural baked goods that truly taste great. With a range of products that include sprouted bread, sprouted buns, sprouted baguettes, sprouted crusts and sprouted wraps, Angelic Bakehouse is making waves for the sprouted whole grain industry. Gone are the days of cardboard texture or bitter whole-wheat aftertaste that consumers often find with good-for-you fare. Pure ingredients. Pure products. Pure quality. That's what you can expect from Angelic Bakehouse. To find out more, or for Angelic Bakehouse retailers near you, visit AngelicBakehouse.com or follow along on Facebook.com/AngelicBakehouse and Twitter.com/AngelicBakehse.