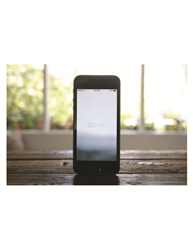 I couldn't believe how easy it was.
Los Angeles, CA (PRWEB) October 04, 2014
Swop, a new geosocial networking app for mobile phone that allows two people in close proximity to exchange all of their personal social networking information in an instantaneous "swop," announces its iPhone release, available at https://itunes.apple.com/us/app/swop-connecting-made-easy/id923761295?ls=1&mt=8. The free app is designed to streamline the process by which friends, family, co-workers and acquaintances share the five most popular pieces of networking information with one another (i.e., phone number, email address, Facebook account, and Twitter and Instragram handles), thus eliminating the need for clumsy, awkward exchanges of one piece of information at a time.
Swop's proprietary system allows users to upload all of their personal networking information to a secure server. Then, using Swop's geospatial technology, the user can request to "swop" information with another swop user nearby. The second user must approve the request on his phone before any information can be exchanged. The mobile app's privacy settings allow users to switch off the ability to be "seen" by nearby users and to decide what information to share. A request to "swop" information can be denied just as easily as it can be sent.
Swop is the brainchild of three college friends at Brigham Young University in Utah who were searching for a way to quickly exchange personal information with classmates. As they grew weary of awkward, time-consuming exchanges of information, they decided to build their own tech-friendly solution from the ground up. In early 2014, they took a leave of absence from their studies at BYU to focus on the company full time. CEO Mitch Fultz, a native of Westminster, MD, outside Washington, D.C., is a 23-year-old finance major who had his heart set on going to work on Wall Street when he enrolled at BYU. But he couldn't be happier about this abrupt U-turn as he pursues making swop a success. COO Jameson Gardner, a native of Seattle, WA, is a 23-year-old BYU microbiology major who's become so enthralled with swop that he doesn't mind putting his future career in science research on hold. Gardner's roommate, CMO Sean O'Rourke, a native of Cleveland, Ohio, is a 22-year-old BYU advertising major who's long been passionate about brand perception and how it shapes profitability, sharability, and loyalty; O'Rourke is responsible for swop's design and user experience.
Early users are enthralled with Swop's capabilities. "Swop is cool because it's an easy way to trade info. I love working with a group of smart go-getters with a great idea. They are definitely the type of guys to work with!" said DJ Marcus Wing, an internationally known music DJ who emceed the Swop launch party October 3. Alyssa Freebairn, a Utah State University student, said, "I couldn't believe how easy it was. Makes Instagram, Twitter, and Facebook that much more fun to use. No more searching for people who have difficult Twitter and Instagram handles to find!" Still another user stated: "The whole reason we go to a party is for the social aspect. Swop makes it super simple to get not just people's numbers, but their social media profiles as well, without ever asking what their usernames are."
Swop is online and on social media. For more information about swop, or to request a demo, please contact Amy Osmond Cook at 949-813-0182 or amy(at)osmondmarketing(dot)com. Please also visit http://www.swop.com, http://www.facebook.com/swopapppage, http://www.twitter.com/swopapp, and http://www.instagram.com/swopapp.