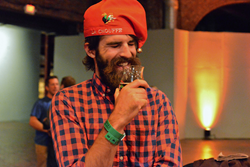 SAN FRANCISCO, CALIF. (PRWEB) October 06, 2014
Chouffe (http://www.achouffe.be/en), creator of fine ales brewed in the heart of the Belgian Ardennes, is bringing its popular Chouffe Fest to San Francisco's Log Cabin in the Presidio on Thursday, October 23rd. This will be the ninth stop on the national Chouffe Fest tour, which has already received rave reviews in New York, Chicago and Philadelphia.
Chouffe Fest, produced by Los Angeles-based creative agency Bagavagabonds, will celebrate Chouffe's Belgian craft beers, which rumor has it, were hand- crafted by magical gnomes and passed in secret to Chouffe's founders in the 1970s. Inspired by this mystical tale, Chouffe Fest invites guests to step into the imaginary world of the Chouffe gnomes, which includes an eight-foot-tall "gnome throne" photo booth and giant, playable versions of checkers, Jenga and Connect Four.
Chouffe Fest is partnering with Uber to offer an exclusive deal to existing users using Uber's new ride sharing service uberPOOL. Existing users can use the promo code CHOUFFEPOOL, while new users can sign up and download the app at get.uber.com/go/chouffepool For more information about uberPOOL, visit http://blog.uber.com/uberpool.
Tickets to Chouffe Fest San Francisco are $10 through Eventbrite. Ticket cost will cover complimentary beer tastings of Chouffe's beloved craft brews from Belgium, paired with local bites and live music by MJ's Brass Boppers Band.
Chouffe Fest is artistically curated by Bagavagabonds from top to bottom and will feature custom stop- start animation loops of Chouffe gnomes parachuting off of local landmarks. Guests can take home on-site screen-printed posters, create and send custom letter-pressed postcards, and have their "gnome-i-fied" portrait hand-drawn by an on-site caricature artist.
Chouffe Fest will proudly feature the following Belgian craft brews from Chouffe:
La Chouffe is a Belgian blonde ale with a hazy golden yellow color with full white head. La Chouffe boasts aromas of peppery spice and flavors of candy sweetness and fruity esters, followed by a creamy dry finish in this highly carbonated and gently warming ale. It contains 8% alcohol by volume (ABV) and a Rate Beer rating of 98.
Mc Chouffe is a Belgian-Scottish dark ale that is rich brown in color with a light tawny head. Featuring deep aromas of chocolate, toffee and caramel with rich nutty and spicy flavors of almonds, cinnamon and nutmeg, Mc Chouffe has a dry, creamy finish with noticeable warmth. It contains 8% ABV and a Rate Beer rating of 97.
Houblon Chouffe is a Belgian IPA Triple that is golden yellow with a delicate white head. Featuring grassy and citrus aromas from Amarillo, Tomahawk and Saaz hops with slight aromatics of clove; biscuit malt flavors are followed by a touch of honey then a dry, crisp finish marked with a touch of orange. Houblon Chouffe contains 9% ABV and boasts a Rate Beer rating of 99.
Chouffe Fest San Francisco will take place Thursday, Oct. 23 from 7 - 11 p.m. at the Log Cabin located in the Presidio at 1299 Story Ave. Guests must be 21 and over to attend all Chouffe Fest events. For more information about Chouffe Fest, visit http://www.chouffefest.com.
About Chouffe
Chouffe Belgian craft brewery was created by two brothers-in-law in the 1970s in the beautiful Belgian Ardennes region. Rumor has it that the magical gnomes of this enchanting region decided to reveal their secret recipe for this special beer with a magic taste to humans and thus inspired the first brew of La Chouffe (49 litres) on August 27, 1982.
Today, over 40 countries covering every continent are supplied with Achouffe beers. Their unique flavors have received highly coveted international awards, year after year, as these humans continue to perpetuate the gnomes' magical potion. Connect with Chouffe on Facebook at https://www.facebook.com/LaChouffe.beer?ref=br_tf and on Instagram at http://instagram.com/chouffeusa.
About Bagavagabonds
Bagavagabonds is a creative group that specializes in artfully detailed events and hands-on brand campaigns. With its roots as an art collective, BV brings its out of the box approach to the world of experiential marketing. Bagavagabonds is delighted to be partnered with Chouffe to deliver this one of a kind festival (and beer) to the good old U S of A. Cheers! [http://www.bagavagabonds.com
Media Contact:
JulieAnna Giannini, Alliance PR
503.683.1060/ julieanna(at)alliance-pr(dot)com