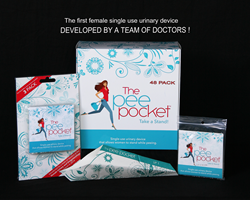 "My father stopped coming to family gatherings because he smelled like urine. Since using The Pee Pocket, he has not had any post drip and the smell is gone! Thank you Pee Pocket for giving my kids grandpa back!"
Los Angeles, CA (PRWEB) October 06, 2014
The Pee Pocket female urinary device is perfect for athletes, travelers, the elderly, disabled, pregnancy, parents of young girls, post-surgery patients – any woman who might have to go while on the go.
The Pee Pocket is a single-use, waterproof disposable funnel allowing women to pee while standing. Its patented convenient tri-fold design easily fits in a purse or pocket and includes a hygienic tissue wipe and disposable bag. Use without getting hands or other body parts wet.
The demand for The Pee Pocket has been so great especially from patients, baby boomers, and seniors that a larger 48-pack was developed for hospitals, clinics, acute and long-term care facilities, home health services, the home, and office use. Elderly women, post-surgical patients, (hip, knee, etc.), pregnant women and even men who have trouble squatting or bending down to pee have regained their independence to relieve themselves. The 48-pack was created by a team of doctors, who saw the need for all women and men to gain their independence and take a stand.
Customers have commented on the innovative device, "My father stopped coming to family gatherings because he smelled like urine. Since using The Pee Pocket, he has not had any post drip and the smell is gone! Thank you Pee Pocket for giving my kids grandpa back!"
The Pee Pocket 48-pack is being introduced today at the 65th Annual AHCA/NCAL Convention & Expo in Washington, DC.
The Pee pocket comes in single packs for $.99, 3-packs for $2.99, and now the new 48-pack for $24.99.
Please visit: thepeepocket.com or amazon.com to order.
Or call 1-844-EZ-Pocket to order.
For more information, please visit http://www.thepeepocket.com.
# # #