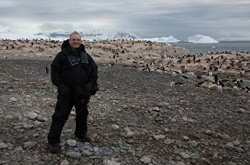 Photoshop offers many of the most powerful tools that exist for the novice and pro photographer alike.
Redondo Beach, CA (PRWEB) November 04, 2014
The South Bay Photographers will offer a session by Los Angeles photographer Mark Nicholas on the all-powerful Adobe Photoshop software. Photoshop is among the most important tools available to any photographer, casual and pro alike, and helped to define the manner in which images are prepared and processed. This is a must-attend session for any photographer unfamiliar with Adobe Photoshop.
This session will discuss Adobe Photoshop. While the basic structure of Photoshop will be discussed, the presentation will focus on those functions critically important for photographers, including color correction, selections, restoration (e.g., cloning and healing), masking, blend modes, text and more. Photographs will come to life as techniques are discussed that will make the photographer's life and more filled with opportunities to take photos rather than sit in front of a computer screen.
"Whether we are educating novice photographers or the pro, there will be a lot of great information to inspire the creative energy," explains Mark Nicholas. "We are looking forward to a very fun event."
While the event is free to attend, attendees are asked to join and register for attendance by clicking the following link: http://www.meetup.com/rbphotos/events/198932312/
About Mark Nicholas:
Mark Nicholas is a lifetime photographer, author and educator with a focus on commercial/specialty photography. Mark focuses on technical styles of photography including high speed, time and motion, liquid, product photography. Nicholas has photographed in Africa, Asia, Antarctica, and South America and frequently travels and educates throughout the United States. Learn more about Mark Nicholas at http://www.marknicholasonline.com.
About the South Bay Photographers:
The South Bay Photographers was founded in 2007 as an open community of photographers and has expanded to a membership of more than 800 members. Meetings are held monthly in Redondo Beach, CA and are free to attend. Please visit http://www.meetup.com/rbphotos/ for more information.