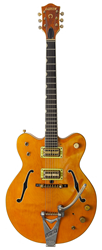 "I was just cheeky enough to ask John for one of his spare guitars" – David Birch, John Lennon's cousin
Chorley, Lancashire. (PRWEB UK) 6 October 2014
TracksAuction.com are to auction John Lennon's Gretsch 6120 guitar which John gave to his cousin David Birch MBE in 1967. Expected to make around $1 million at auction. Online bidding begins at 4pm on 14th November 2014 at TracksAuction.com concluding with a live auction at Le Meridien Hotel, Piccadilly, London at 2pm on 23rd November 2014.
The Gretsch 6120 is a historically important instrument from the former Beatle's personal collection, used and photographed during the Paperback Writer session held at EMI Studio 3, Abbey Road, London on the 14th April 1966. The Gretsch 6120 is, perhaps, the most significant of John's guitars to come onto the market in the last 30 years.
There is a promotional video available at TracksAuction.com for the Gretsch guitar. It includes commentary from owner David Birch and Beatles historian and author Mark Lewisohn.
David Birch was given the guitar when he visited John in Weybridge in November 1967. David recalls that one day John and himself were chatting in the home studio located at the top of the house in Kenwood. David asked John if he had a guitar that he no longer wanted as he was trying to get a group together with some mates at the time. "I was just cheeky enough to ask John for one of his spare guitars", he remembers, "I had my eye on a blue Fender Stratocaster that was lying in the studio but John suggested the Gretsch and gave it to me as we were talking". The younger cousin was absolutely thrilled with his gift. The Gretsch 6120, serial number 53940, has been owned by David Birch ever since.
The guitar comes with indisputable proof of its authenticity. The Beatles Monthly Book photographer, Leslie Bryce, took a number of black & white and colour photos of John Lennon using the Gretsch during the Paperback Writer session of 14th April. There are close-up photos from the session clearly showing the wood grain on the front of the headstock of the instrument. When these images of the wood grain are compared to the wood grain on the headstock of the actual guitar the two can be seen to match up identically. Wood grain is exactly the same as a fingerprint in that no two examples are identical. This provides conclusive proof that the Gretsch 6120, serial number 53940, is the guitar that John played on the Paperback Writer session.
John Lennon owned and played guitars from the Beatles period are extremely rare in themselves but a Lennon owned guitar which has the history of a close family connection, unquestionable legal title and clear-cut picture identification is rare beyond belief. It is difficult to recall any of John's guitars with all of these combined attributes being offered for sale previously. Not only is the sale of this Gretsch 6120 a rare chance to acquire a piece of John Lennon's musical legacy but in terms of the guitar's provenance, authenticity, desirability and scarcity the sale of this iconic instrument represents a prime music-related investment opportunity. The guitar is estimated at £400,000 to £600,000 ($650,000 - $1 million USD).
The auction contains over 100 lots of Beatles memorabilia including a copy of the Sgt. Pepper album signed by John, Paul, George and Ringo estimated at £100,000 to £150,000, various items from the collection of John Lennon's life-long friend Pete Shotton and the banjo played by Rod Davis in John's original group, the Quarrymen. The sale will also include numerous lots of quality rock 'n roll memorabilia including signed items from the Rolling Stones and The Who, original Sex Pistols concert and promotional posters and a set of handwritten Kate Bush lyrics to the song Wuthering Heights.
TracksAuction.com is a division of Tracks Ltd. established in 1989, Tracks has developed into one of the world's leading dealers of rare Beatles and pop memorabilia. It's staff of specialists have over 20 years of experience of appraising, authenticating, evaluating and selling Beatles and rock 'n roll collectables at the highest level.
If you would like to find out more about any of the lots in our auction or if you require any additional images of any item please contact Jason Cornthwaite or Chad Craddock on 0044 (0)1257 269726 or visit our website http://www.TracksAuction.com
Consignments are now being accepted for inclusion in the sale. Please feel free to contact TracksAuction.com with details of your item(s).
The attachments to this press release contain images of John Lennon, his family and the Gretsch guitar. All of the worldwide rights for their usage have been cleared and these images may be used in conjunction with any article containing information regarding the sale of the John Lennon Gretsch 6120 Auction being held by TracksAuction in November. There are more photographs of John Lennon available, please contact TracksAuction.com to request these images.