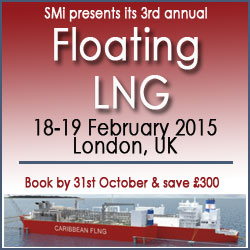 (PRWEB UK) 6 October 2014
This year's conference aims to focus on current project updates and developments within the field, the LNG market dynamics and economics to determine what is driving the industry forward, technological innovations, case studies from the leading EPC projects as well as cover Pre-FEED projects and risks associated with this dynamic industry.
Floating LNG - 2015 will be an excellent opportunity to hear presentations from leading experts covering all aspects across the industry. There will be case studies from those who are both developing and executing FLNG projects near and offshore. With analysis of key trends in the floating LNG industry, methods in project execution, LNG market dynamics, technological advancements and investment challenges this conference is a must attend for 2015.
Event speakers include:
Alex Forbes (Director), Forbes Communications; Bas Van Den Beemt (Business Development Oil & Gas), TNO; Brian Songhurst (Director of LNG), ThyssenKrupp Uhde Energy & Power; Charles Ellinas (CEO), Cyprus Natural Hydrocarbons Company; David Haynes (Director & Principal Consultant), Penguin Energy Consultants; David Stenning (President & COO), Sea Ng Corp; Derek Thomas (Director), Modular Energy Systems; Francis Ugboma (Senior Manager), Gasol plc; Joe Verghese (Technical Director and GM), WorleyParsons Europe Ltd; Krish Suthanthiran (President), Kitsault Energy; Lars Odeskaug (COO), Sevan Marine A S A; Leigh Bolton (Managing Director), Holmwood Consulting Ltd; Nick Prowse (Partner), Norton Rose Fullbright; Richard Tyler (Partner), Hogan Lovells International LLP; Robert Clews (Head of Oil), SMBC Europe Division; Robert Shivers (Principal), LoneStar FLNG; Tom Haylock (Business Development), KANFA Aragon
Sponsorship enquiries: contact Alia Malick on +44 (0) 207 827 6168 or amalick(at)smi-online.co(dot)uk
Delegate enquiries: contact Andrew Gibbons on +44 (0) 207 857 6156 or agibbons(at)smi-online.co(dot)uk
Contact for media-partners: Julia Rotar, jrotar(at)smi-online.co(dot)uk
Further information available online at http://www.smi-online.co.uk/2015floatinglng12.asp
3rd annual Floating LNG
18-19 February 2015
London, UK
About SMi:
Established since 1993, the SMi Group is a global event-production company that specializes in Business-to-Business Conferences, Workshops, Masterclasses and online Communities. We create and deliver events in the Defence, Security, Energy, Utilities, Finance and Pharmaceutical industries. We pride ourselves on having access to the world's most forward thinking opinion leaders and visionaries, allowing us to bring our communities together to Learn, Engage, Share and Network. We hold events in over 30 major cities throughout the world including London, Paris and Singapore and to date have welcomed over 200,000 participants from 80 countries.
More information can be found at http://www.smi-online.co.uk