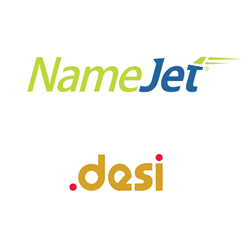 The desi brand has a broad international appeal, aligning with our goal of bringing together domain buyers and sellers from around the word. - Jonathan Tenenbaum, General Manager, NameJet
Kirkland, WA (PRWEB) October 08, 2014
Desi is a global term referring to the culture, people and products originating from the Indian sub-continent (India, Pakistan, Bangladesh, Nepal, Sri Lanka). It evokes a sense of identity among 1.7 billion people around the world.
NameJet will be making these premium domains available for backorder between now and November 2, 2014, immediately followed by a 3 day public auction. Some of the domains being offered include: club.desi, jewelry.desi, doctor.desi, and cuisine.desi.
"The desi brand has a broad international appeal, aligning with our goal of bringing together domain buyers and sellers from around the world. We're excited to be offering these domains on the NameJet auction platform." - Jonathan Tenenbaum, General Manager, NameJet.
A portion of all .desi domain sales will go to support charitable organizations serving South Asian communities. Ravin Ohri, President of Desi Networks, LLC said, "Our vision for .desi is threefold: to connect desi individuals, businesses and charities from around the world; to promote desi culture globally; and to impact emerging markets within the Indian sub-continent and globally."
About NameJet
NameJet, a joint venture between Rightside (NASDAQ: NAME) and Web.com (NASDAQ: WWWW), is the world's leading domain name auction platform. Launched in 2007, NameJet has since processed more than 200,000 domain auctions on its award-winning and easy-to-use website. With an exclusive inventory of expired and deleted domains from several of the largest registrars, plus top-quality premium name listings and drop-catching services, NameJet is the industry's most trusted auction and aftermarket services provider.
About About Desi Networks, LLC
Desi Networks, LLC was formed in 2011 for the purpose of operating the .desi gTLD. .desi will create a platform for desi people and its diaspora to interact in a more personal way and bring the community together without restriction to a geographic location. A portion of revenues from all new registrations will be donated back to charities that serve communities in the Indian sub-continent.