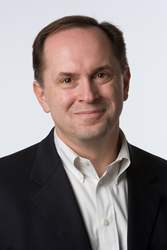 Varner is noted for his success in asset repositioning – the rehabilitation of older buildings into highly marketable real estate assets.
Washington, DC (PRWEB) October 09, 2014
SmithGroupJJR, one of the nation's largest architecture, engineering and planning firms, has promoted David Varner, AIA, LEED AP BD+C, as leader of its Workplace Practice.
In his new role, Varner leads the firm's national practice devoted to the design of workplace facilities, including corporate headquarters, campus development, workplace interiors, speculative office building, hospitality, retail and multi-family/high-rise residential buildings for both public and private sector clients. Varner will focus on expanding the practice's portfolio of major headquarters, urban development and workplace strategy projects. Varner was elevated from Workplace Studio leader at the firm's Washington, DC office.
"It's an exciting time with so much open discussion of real efficiency, sustainability and human performance. This points to the unique ways SmithGroupJJR designs solve these issues while creating both beauty and value," said Varner, a registered architect and LEED accredited professional.
Varner is noted for his success in asset repositioning – the rehabilitation of dated and often undesirable older buildings into highly marketable, in-demand real estate assets. Among his project successes is the complete transformation of the two million-square-foot, LEED Gold, Constitution Center, a repositioning of a 1970s property into the largest, most secure workplace in Washington, DC. Learn about SmithGroupJJR and Varner's success in such building transformation by viewing the video, "Asset Repositioning," http://bit.ly/1E0baIY
"We've found that a building with good bones in a premier location can gain back its marketability through renovation instead of demolition and expensive rebuilding," Varner remarked.
Varner has extensive experience exploring and implementing sustainable design in the workplace environment. He is currently serving as principal-in-charge of SmithGroupJJR's design of Sentinel Square, a multi-phase project in Washington DC's NoMa neighborhood (area North of Massachusetts Avenue, four blocks from Capitol Hill) consisting of three, LEED Gold, high-security Class A office buildings.
Varner leads the SmithGroupJJR Workplace Advisory Board, a forum comprised of corporate and institutional real estate executives, workplace strategists, facility directors and human resource professionals. The group convenes to share insights into emerging trends, as well as challenges and opportunities related to creating and maintaining today's sophisticated workplace environments. Read "A New Honesty in the Workplace" for the latest roundtable summary.
His professional affiliations include the American Institute of Architects, Urban Land Institute (ULI), DC Building Industry Association and the U.S. Green Building Council. An active speaker, Varner was guest presenter at the U.S. Department of Energy series, "Building in the 21st Century" and is currently participating in the ULI's Urban Plan teaching program.
Varner, a member of the SmithGroupJJR Board of Directors since 2011, joined the firm's Washington, DC office in 1984 as an architect, advancing to the roles of project manager, principal and Workplace Studio leader. He is a graduate of Rice University with a Bachelor of Arts degree in architecture and art/art history, followed by a Bachelor of Architecture.
A native of Houston, Texas, Varner currently lives in Arlington, Virginia.
SmithGroupJJR (http://www.smithgroupjjr.com) is a recognized integrated architecture and engineering firm ranked Top 10 in the U.S. by Building Design + Construction magazine. The firm's nationally recognized Workplace Practice has completed the planning and design of more than 25 million-square-feet of corporate, government, institutional and private development projects related to workplace environments and urban development. A national leader in sustainable design, SmithGroupJJR has 343 LEED professionals and 111 LEED certified projects.