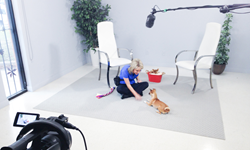 "It's a win-win for East Lake Pet Orphanage's homeless pets and PetFuntastic!" –Dr. Karen Fling
Dallas, Texas (PRWEB) October 08, 2014
Karen Fling, DVM and president of East Lake Pet Orphanage, a Dallas-based, no kill animal shelter, announced the Orphanage's Squash Blossom Studios just completed the first video to be used by PetFuntastic, a new online training and pet owner resource company.
Founded by Tia Guest and Christina Waggoner, PetFuntastic offers video-based training and other resources for pet owners. View their introductory video here:
https://www.youtube.com/watch?v=gECSwpELO1Q
"We teamed up with East Lake Pet Orphanage so we could take some newly-arrived orphans and work with them on camera to actually demonstate, in real-time, how our training methods work," Guest said. The videos will be used on PetFuntastic's website for teaching purposes. The new website is still under construction; the url is: http://www.petfuntastic.com
"It's a win-win for East Lake Pet Orphanage's homeless pets and PetFuntastic," said Dr. Fling. "We're excited for our orphans to have this opportunity."
"We will offer two membership levels; free and all access (paid). The free membership level will include some "jump start" resources, such as activities to do with your dog, all designed to demonstrate how quickly desirable behaviors can be taught. Paid members will be able to choose one or more of our Learning Paths, or select particular behaviors and resources to concentrate on," Guest said.
"Learning Paths are designed to make it easy for pet owners to identify and achieve their goals. We have three Core Learning Paths: Funtastic Puppy, Every Dog, and Adopted Dog. And we have multiple Specialty Paths such as Around the House, Happy Vet and Groomer Visits, Easy Housetraining, and Boredom Busters. Within each Learning Track, viewers will be able to see practical uses of the behaviors (the behaviors in action in real-life scenarios). Training begins with a Quick Start video, then continues with Strengthening videos until the desired level of behavior is reached.
Guest continued, "PetFuntastic is working with ELPO orphans that have received little or no training for our Quick Start videos and Strengthening videos; the goal is to show the training process from the very start, providing pet owners with real examples of early training so that they feel empowered with what to expect when they start training their own dog. Our tagline is 'Yes, I can teach my pet.' We strive to make it easy and fun."
About Squash Blossom Studios
The 18,000 square foot warehouse facility currently has 3,000 square feet of air conditioned, finished out space available for use. "We plan to finish out more of the space, and create a cyclorama, or cyc as they say, for shooting large items, like cars," Dr. Fling said. The facility includes 16' ceilings and garage style opening doors with loading dock height bays.
Squash Blossom Studios offers some extras for clients if needed, such as an on site carpenter for help with set building, animal talent from East Lake Pet Orphanage, and an air-conditioned pet trailer that includes a sink and pet bedding. There's also a paint booth, makeup room, full kitchen, fenced parking, and even a basketball court for stress relief!
"The facility works great for animals, but is perfect for any studio project, from furniture to fashion to cars," Dr. Fling said. She added she hopes Squash Blossom Studios will eventually be used for filming, performance, and special events.
The photography studio warehouse is located at 7939 Heinen, Dallas, Texas. For information call 214 893 6502. Visit:
http://www.squashblossomstudios.com
The Second Chance Treasures store, also operated by East Lake Pet Orphanage, is located at 10101 Garland Road in Dallas. 214 660 9696. Visit:
http://www.secondchancetreasures.org
For more information on East Lake Pet Orphanage, visit:
http://www.elpo.org or http://www.helppets.net
# # #