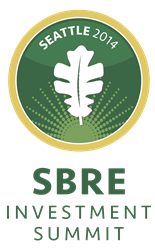 This announcement rounds out a roster of fund managers representing a great mix of strategies and geographies for the attending investors.
Seattle, WA (PRWEB) October 08, 2014
Fairway America, LLC ("Fairway") announced today that it has confirmed a fifth and final round of fund managers who will present information about their funds at the Small Balance Real Estate (SBRE) Investment Summit, a signature Fairway event. The SBRE Summit will take place at the Bell Harbor International Conference Center in Seattle on October 16, 17, and 18 of this year.
"This announcement rounds out a roster of fund managers representing a great mix of strategies and geographies for the attending investors," said Fairway America CEO, Matt Burk. "The investor response has been everything we'd hoped for and we are excited about the caliber of investors signed up. We continue to field calls from this sector who are interested in learning about the SBRE space and how our Summit facilitates that education."
Jeffrey Pintar of Pintar Investment Company, LLC, Curt Hugo of Matino's Financial, LLC, Raymond Loughlin of Touchstone Management Company, Jefferson Lilly of Park Street Partners, and Mags Hardardottir of Drever Capital Management have committed to present at the SBRE Investment Summit.
At Drever Capital Management, it has been our experience that our best investors are informed investors. Working with Fairway America has provided us with new tools and insights on how we can educate our investors about impact investing in the senior housing space. We are thrilled to present our unique offerings at the SBRE Summit and hope that we can inspire others with our mission just as Fairway America has inspired us with theirs.

I am excited for the opportunity to present at the 1st annual SBRE Summit. I believe the Summit is an opportunity that both investors and managers can benefit from. I am looking forward to meeting all those involved in the SBRE community, and developing relationships that will be mutually beneficial for years to come. Plus, as a long time Cowboys fan, I can't wait to meet Emmitt Smith!
It is an honor to be included as a presenter at the SBRE Summit. Fairway's emphasis on quality and integrity aligns perfectly with Pintar's own commitment to excellence. The Summit provides an excellent opportunity to cement relationships as well as forge new ones and we're excited to have the opportunity to share our story at this unique and much anticipated event.

About Fairway America
Fairway America, LLC is a longtime real estate lender, fund manager and boutique real estate finance advisory firm providing strategic business planning services nationwide to private money lenders and real estate operators around the structure, architecture, and administration of proprietary 506 Regulation D pooled investment funds. Fairway's related entities manage two funds, Fairway America Fund VI, LLC, an acquirer of small balance real estate secured loans and investments, and Fairway America Fund VII, LP, a small balance real estate fund of funds. Both funds consider investments nationwide.