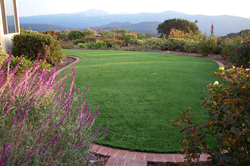 The value of interacting and educating so many on the benefits of artificial turf is significant. Many have never seen or touched artificial grass, and have a misconception about quality and realism
CARLSBAD, Calif. (PRWEB) October 29, 2014
EasyTurf is scheduled to join the country's largest single day street fair in Carlsbad, Calif., Nov. 2.
EasyTurf will set up their interactive booth and join an estimated 100,000 visitors at the Carlsbad Village Fair.
"We are a North County-based business, and we're excited to join many of our neighbors for what's sure to be a great event," said David Hartman, EasyTurf President. "The value of interacting and educating so many on the benefits of artificial turf is significant. Many have never seen or touched artificial grass, and have a misconception about quality and realism."
Synthetic turf technology has made great advances in the past ten years, and many cannot distinguish between real grass and EasyTurf when standing on it, according to Jackie Luper, Vice President, Marketing.
"Anyone at the fair will have a chance to touch our grass and see just how real it looks and feels," said Luper. "All synthetic grass can save home and business owners money and time, but there are different levels of quality when it comes to artificial grass. One factor setting up above our competitors is our unmatched drainage capability."
The proprietary MaxxFlow™ artificial grass backing drains freely without any absorption, which is a key factor especially for pet owners. EasyTurf will have an interactive drainage tank to compare its drainage to other leading brands of turf.
Pet-friendly maintenance free lawns, durability, and pest deterrence are more reasons to consider EasyTurf, according to Luper. World renowned dog whisperer Cesar Millan recently introduced EasyTurf artificial grass as his turf-of-choice for pet owners seeking to eliminate common lawn problems associated with pets. EasyTurf installed more than 10,000 square feet of synthetic grass at his Dog Psychology Center in Santa Clarita, Calif.
"Not only does EasyTurf look just like natural grass, it helps to eliminate common lawn problems associated with pets like brown spots from urine, tracked in mud, grass clippings. And it can even deter your dog from digging holes," Millan stated.
EasyTurf's state of the art fibers and infill provide a safe, cushioned place for pets to play and train. Advanced engineering ensures pets a durable, soft lawn for many years to come while drastically reducing water and lawn maintenance costs. Animal shelters and Humane Societies across the country recognize EasyTurf's performance and have installed the turf in their facilities.
Millan, in a recent video explaining the project stated, "EasyTurf was the best choice for us and it's the best choice for your pack."
For more information about the Kids Expo, visit http://www.carlsbad.org. For the latest in artificial grass news, visit http://www.easyturf.com.
About EasyTurf:
In May 2010 EasyTurf, Inc., a long-time distributor of FieldTurf line of landscaping products and a recognized leader in the artificial grass industry, became the national brand of FieldTurf landscape, pets, playground, and golf artificial grass products. The partnership allowed FieldTurf to rapidly expand its existing dealer network and accelerate sales and distribution of FieldTurf landscape products on a national level to homeowners, municipalities, schools, businesses and the military.
EasyTurf is North America's preeminent source for landscaping, offering state-of-the-art synthetic lawns for realistic, beautiful, easy-care residential and commercial landscapes, providing specialty synthetic grasses engineered specifically for military surfaces, commercial and residential athletic and playground surfaces, putting greens, and for pet-friendly landscapes. EasyTurf product advancements in the synthetic grass industry have led to massive growth for the Vista, California-based leader in life-like artificial lawns that stay beautiful year round.
FieldTurf has long been the world leader in synthetic sports field cover; now EasyTurf joins them as the industry leader in residential and commercial synthetic turf markets.
Contact:
Jackie Luper, VP of Marketing
Phone: (760) 745-7026
Fax: (760) 888-2011