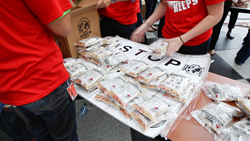 (PRWEB) October 08, 2014
Food For Thought – Denver and Stop Hunger Now are joining forces in the fight against hunger at Rock-A-Belly. More than 700 volunteers and supporters will package meals for the world's hungry on October 11, 2014, at Turnhalle at Metropolitan State University of Denver, 1201 5th Street, Denver, CO 80204 beginning at 11AM. Food For Thought – Denver provides "PowerSacks" to Denver's low-income elementary school children to take home for the weekend, bridging the hunger gap these children experience between meals they receive during the week at school. Stop Hunger Now meal-packaging events are volunteer-based programs that coordinate the streamlined packaging of highly nutritious dehydrated meals comprised of rice, soy, vegetables, flavoring and 23 essential vitamins and minerals.
"By hosting a meal-packaging event with Stop Hunger Now, we will turn our focus for one day to the hunger problem which affects children across the globe by packing 100,000 meals to be distributed in places of need," said Bob Bell, Co-Founder of Food for Thought – Denver. "This event is also a major fundraiser for Food For Thought this year."
Around the world, nearly 870 million people lack adequate food and about 25,000 die each day from hunger-related causes. Stop Hunger Now operates meal packaging locations in 18 cities throughout the U.S. and four international locations. More than 400,000 volunteers from corporations, churches, schools and civic organizations have packaged Stop Hunger Now meals.
"This event provides an opportunity to gather our supporters together for the common purpose of bringing attention and solutions to the hunger problem both here in Denver and abroad," said John Thielen, Co-founder of Food For Thought – Denver.
In addition to the packing event, Rock-A-Belly will feature live music throughout the day, small bites by Denver's top chefs, and local beverages by Tivoli Brewing Company and Teatulia. Heroes Like Us Foundation will help coordinate our fine food and beverage offerings with the support of the Denver culinary community.
Food For Thought is proud to have the support of presenting sponsor, VISA and the many generous partners and corporate sponsors of the Rock-A-Belly event.
For more information contact Jeane Larkins, Food For Thought – Denver, 303-817-4672, volunteer(at)foodforthoughtdenver.org.
Food for Thought – Denver was founded to address the acute weekend hunger problem experienced by over 26,000 in the Denver Public School system. Food For Thought currently serves four schools, providing a weekend "PowerSack" to every child in the school to take home. Each PowerSack is designed to feed a family of four two meals over the weekend. For more information about Food For Thought – Denver, visit http://www.foodforthoughtdenver.org.
For more than 15 years, Stop Hunger Now has been creating a movement to end hunger. More than 150,000,000 meals have been packaged and distributed along with other aid to 65 countries impacting millions of lives. The organization is driven by a mission to end hunger in our lifetime by providing food and life-saving aid to the world's most vulnerable and by creating a global commitment to mobilize the necessary resources.
The Stop Hunger Now meal packaging program was created to give dedicated individuals the opportunity to participate in a hands-on international hunger relief program and to become educated, engaged advocates for the world's poor and hungry. In 2013, Stop Hunger Now packaged 38.6 million meals in the U.S. and International Affiliates packaged an additional 3.3 million meals.
In its efforts to respond to emergency needs around the world Stop Hunger Now receives and distributes significant donations of in-kind aid. These donations are large quantities of food, medicines, medical supplies and other such items as may be of use in fighting hunger and providing relief in a crisis.