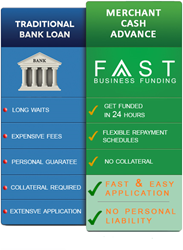 .NYC Domain To Add an Innovative Twist To Their Online Presence
New York, NY (PRWEB) October 09, 2014
New York-based Fast Business Funding is eager to launch their new .NYC domain to add an innovative twist to their online presence. Fast Business Funding is a proud supporter of small businesses in the state of New York and the rest of the country. Their new .NYC domain sets Fast Business Funding apart in the financial capital of the world. Business owners seeking working capital can visit their new website at http://www.merchantcashadvance.nyc from any mobile or desktop device.
The Online Business Lending scene is getting more and more competitive each day. Merchant Cash Advance providers are spending a great deal of resources to stay ahead of the pack. Fast Business Funding has been a top option for small business owners as their process has been proved to be one of the fastest in the industry. Business owners can get fast working capital today!
The Fast Business Funding Process - Get Instant Business Credit in 24 Hours!
1.) Apply Online
2.) Get Approved
3.) Get Funded
Fast Business Funding is launching their new .NYC web address, but that doesn't limit their geographic boundaries. Fast Business Funding works with business owners all across the United States. They have helped thousands of business owners with the working capital they need to grow. Fast Business Funding offers very effective financing options for small business owners. Merchant Cash Advances can get business owners cash amounts of up to 125% of their monthly sales volume. This structure has some advantages over conventional loans. One of their main benefits is their speedy process. This can be associated to their primary criteria analysis of a company's last 3 month's of bank statements. If a business is generating over $10,000 in monthly sales, that business may be considered pre-qualified for a Merchant Cash Advance.