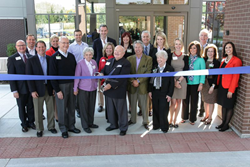 "Here at The Springs we are changing the perception (of a nursing home) for those we serve," said Renee Garvin
(PRWEB) October 08, 2014
The Springs at Monarch Landing will change the perception of long-term care for seniors. On October 1, Monarch Landing celebrated the grand opening of its new health center, The Springs. The construction project started eighteen months ago, however planning dates back over 4 years.
The 94,000 square foot health center was designed by Perkins and Eastman. It features private resident suites with adjoining private bathrooms with 48 devoted to short-term rehabilitation, 48 to long-term care, and 28 for memory support assisted living. Other building amenities include a therapy suite, bistro, multi-purpose room, outdoor gardens and courtyards, salon, as well as a corridor connecting these commons to the independent living apartments at Monarch Landing.
The Springs was thoughtfully designed to be residential in nature with welcoming living areas, dining rooms, country kitchens and artful lighting and accents throughout. Residents are encouraged to make decisions about their schedules, dining preferences and care choices, and are able to participate in activities including cooking, fitness and more.
"Here at The Springs we are changing the perception (of a nursing home) for those we serve. We are embarking on not only opening a new, beautiful building, but an environment designed to change how we think about and experience long term care," said Renee Garvin, executive director of Monarch Landing, speaking at the grand opening event. "I think every single one of us can attest to the desire to be independent, to make our own decisions, to live with purpose and to make contributions to others and society. We have learned that even when disease or weakness impacts our minds and/or our bodies, we do still possess the ability to think, act and give. Albeit, maybe less than what we once had, but we remain unique individuals that add value."
Addressing the attendees in addition to Garvin, were residents Bonnie Adams and Leila Zweibel, owner David Reis of Senior Care Development, and Naperville Mayor George Pradel. More than 100 guests and over 300 residents attended the event.
Monarch Landing is a continuing care retirement community located on a scenic campus in Naperville, Illinois-named "one of America's best places to live and retire" by Modern Maturity, and "the best city for early retirement" by Kiplinger. Monarch Landing offers independent living, promoting a vibrant life style for active seniors. The Springs at Monarch Landing offers assisted living memory support, rehabilitation and skilled nursing services, thus providing complete continuing care for seniors. Monarch Landing is owned by Senior Care Development and managed by Life Care Services. For additional information visit http://www.WelcomeToMonarchLanding.com or call 630-548-0400.