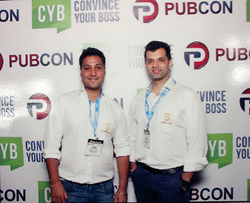 (PRWEB) October 08, 2014
Search Eccentric, the leading Indian internet marketing and SEO agency, has announced big plans for the current fiscal at the ongoing Pubcon, the premier social media and optimization conference and expo, in Las Vegas, Nevada. The company's founders will be participating in the multi-track Las Vegas event between October 6 and October 9, 2014, and have vowed to make it a phenomenal success for the entire organization.
It has been reported that Vibhu Satpaul and Gaurav Sabharwal, founders of Search Eccentric, are in US to attend the 2014 edition of the much sought after internet marketing expo Pubcon organized at the Las Vegas Convention Center South Halls in the sunny entertainment capital of the world. In a telephonic conversation, both Vibhu revealed that FY 2014-15 is important for the Search Eccentric team as the company is planning to enter the highly competitive specialized internet marketing tools market, which has several leading players like KISSMetrics, MOZ, HubSpot, Raven tools and Salesforce, among others.
(Vibhu Satpaul and Gaurav Sabharwal @ The Pubcon Las Vegas 2014 Kickoff party)
Speaking about the company's new vision and future plans, Vibhu Satpaul, Founder & Head of Operations at Search Eccentric, was quoted as saying, "We are in a transitional phase where we are remodelling our marketing operations to match the contemporary setup that we like to call the version 2 of SEO and internet marketing. Pubcon is a great way to catch up with the best minds in digital and social media landscape, and we are here to get ourselves fully prepped up for the next level inbound marketing."
As per Gaurav Sabharwal, Founder and Business Head at Search Eccentric, is inspired towards producing a new picture to the existing Indian internet marketing and SEO industry. Gaurav said, "We have plans to remodel the current analytics and reporting setup in SEO. Many of our clients are demanding in-depth analytical approach towards campaign management and ROI calculations. We have automated most of the reporting related with SEO projects, and the clients are loving every aspect of it. We will be attending Pubcon with an open mind, and hope to return with a fantastic mileage on the evolving internet marketing industry."
As per the official Pubcon website, "Pubcon Las Vegas 2014 will be the biggest gathering of search and social media innovators we have ever assembled, offering an unrivaled highly-productive conference experience at some of the fairest cost-effective rates in the industry, and with the leading technology and online marketing visionaries who will be in Las Vegas, we are confident that every attendee will come away with valuable new ideas and solutions for their businesses."
The Las Vegas Pubcon is playing host to a number of prominent keynote speakers, such as Jay Baer (Convince and Convert), Ted Murphy (IZEA Chairman), Chris Brogan (Owner Media Group), Jason Calacanis (Inside.com) and Duane Forrester (Microsoft Bing). Reportedly, the Search Eccentric team will be participating in most of them.
Gaurav has opined that Google Authorship keynote by Mark Traphagen is one of the best events of the Las Vegas Pubcon 2014, and feels Google Authorship will be a vital component of the SEO version 2.0. It is expected to be an interesting week-long display of future technology presented by the world's leading innovators. The 2014 Pubcon Las Vegas conference will also be the exclusive host to the second annual U.S. Search Awards.
To learn more about the Search Eccentric, please visit their website or contact them here. They can also be reached via mail through – info(at)searcheccentric(dot)com.
About Search Eccentric
Search Eccentric, a leading name among internet marketing firms based in India, serves clients from all over the world. The company has grown at a phenomenal speed since its inception in 2008, and is presently working on over 350 different SEO projects. Raised from a humble beginning, the company has a strong workforce of 150+ employees operating at the moment. Apart from its registered head office situated in New Delhi, India, Search Eccentric has branch offices in United States. Till date, the company has executed over 1000+ SEO projects, and presently serves major clients from the United States, Europe, Asia, Middle-East, and Asia-Pacific regions.
About Pubcon Las Vegas 2014
Pubcon Las Vegas was named a must-attend conference by Forbes, and is considered an Inc. top conference for growing business, featuring the industry's leading businesses, startups, speakers, keynotes, exhibitors, and sponsors involved in social media, digital marketing, search engines and online advertising. The 2014 edition of Pubcon will offer a week-long look at the future of technology presented by a vast array of the world's top innovators, besides being exclusive host to the immensely popular second annual US Search Awards.