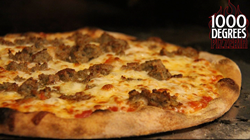 The best Neapolitan Pizza in the USA meets a create your own QSR environment, creating "pizza heaven".
Philadelphia, PA (PRWEB) October 09, 2014
1000 Degrees neapolitan pizza franchise is now accepting qualified franchisees in all 50 states.
1000 Degrees pizza franchise - Looking to join one of the most exciting new concepts in Pizza? At 1000 Degrees the commitment to excellence focuses on 2 important goals.
The Mission:
1. Provide the best possible end product. The pizza is second to none. Using the best artisanal ingredients, including the highest quality imported 00 flour, meats and cheeses. This is not chain style pizza. Enjoying your pizza will be an experience like no other. 1000 Degrees Neapolitan pizza captures old world Neapolitan flavor coupled with North Eastern United States crunchy crust. It's truly amazing.
2. Provide the best possible customer experience. From entering the stores to ordering your pizza, to enjoying your pizza, the customer experience is quite unique and memorable.
Coupling the highest quality imported ingredients with state of the art ovens, the pizzas are baked to perfection in less than two minutes! The best end product and the best customer experience combined assures that a loyal customer base is built. Rest assured, they will tell everyone that they know that 1000 Degrees is a must go to eatery! Word of mouth advertising spreads like wild fire!
1000 Degrees is on fire! 1000 Degrees Pizzeria is currently accepting new Franchise Applicants in all 50 states. The unique concept blended with the best pizza anywhere, is a recipe for success. Applying for a 1000 Degrees Pizzeria franchise including speaking with one of the franchise coordinators is completely free. Find out if this opportunity is right for you!
Get Started Today
There are only 8 simple steps to opening a 1000 Degrees Neapolitan Pizza Franchise.
1. Complete the Franchise Application.
2. You'll receive a call from one of the professional Franchise Coordinators within 1 to 2 business days of completing and submitting the application form. They will have some questions to ask you and you can ask them some questions after briefly discussing goals, number of stores and locations.
3. Review Franchise Disclosure Document and get familiar with 1000 Degrees Pizzeria. Learn how the 1000 Degrees Pizzeria culture operates.
4. Schedule a discovery day. Meet with the 1000 Degrees family at one of the locations in New Jersey. You can ask questions and get a feel for how a 1000 Degrees Neapolitan Pizzeria franchise operates. You will experience the structure and support first hand.
5. Sign a 1000 Degrees Fast Casual Neapolitan Pizza Franchise Agreement.
6. Begin construction. With franchise guidance in helping you select a location and design you will be well on your way to owning your own Neapolitan Pizza Franchise. In as little as 60-90 days your store can be up and turning fresh Neapolitan Fast-Casual Style Pizza*.
7. Visit a corporate store for training and learn how to operate your own 1000 Degrees Neapolitan Pizza franchise. Yourself, your partners and your team will undergo an estimated 40 hours of IN-STORE training. The training includes how to make the unique and delicous proprietary Neapolitan Dough recipe, learning how the point of sale system works, and much more. Once your store has opened, the 1000 Degrees Pizzeria team will have a franchise operations staff member on site to guide you thru your grand opening period and more if necessary!
Finally you get to opening day! The 1000 Degree team of support staff is here to help you have a successful opening day and to help you succeed in the future.
If you have any questions about 1000 Degrees Pizzeria or about how to open your own Neapolitan Pizza franchise fill out the Franchisee Application Form or contact 1000 Degrees Pizza at 856-831-6457. 1000 Degrees Pizzeria franchise looks forward to welcoming you into the 1000 Degrees family! *60-90 days is the average turnaround time on new Neapolitan Pizza franchise. Your actual build out and opening time may vary.