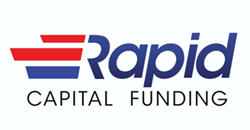 "They are a similar-minded funding company with an understanding of what small and mid-sized businesses need in terms of capital to grow."
Miami, FL (PRWEB) October 09, 2014
Rapid Capital Funding, one of the fastest-growing companies in the business financing industry, has completed its acquisition of American Finance Solutions, a California-based company.
"The combination of Rapid Capital Funding and American Finance Solutions makes perfect sense," said Rapid Capital Funding's CEO Craig Hecker. "When I met AFS founder, Scott Griest, and his incredible team, I found that their values of service and integrity would be a great complement to our company."
Hecker adds that the California-based AFS will now give Rapid, with offices in Miami, Chicago and New York, a complete national footprint. "The team at AFS has funded more than $250 million since its inception in 2006. They are a similar-minded funding company with an understanding of what small and mid-sized businesses need in terms of capital to grow."
"Rapid Capital Funding continues to shine, experiencing 100% growth during the last six months, and we are on track to double that in the next 24 months. I'm excited to announce that American Finance Solutions is now in the fold," said Hecker. "I like the fact that we have added experience and depth to our team."
Rapid Capital Funding was founded in 2007. The company is committed to using the finest technology and data processes to assess the financial viability of small businesses and deliver capital to this market, which is often underserved by traditional lenders. RCF's team of experienced financial executives focuses on businesses and their overall performance and growth, assisting owners in addressing their cash needs. For more information, visit http://www.rapidcapitalfunding.com. For information on American Finance Solutions, visit http://www.americanfinancesolutions.com.