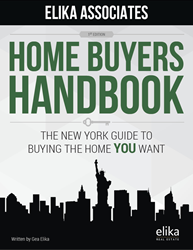 We wrote this book to help buyers get a realistic idea of what to expect. By setting the right expectations, as well as knowing what to do and what to avoid, it is possible for buyers to find a home within their budget that fits their needs
Manhattan, New York (PRWEB) October 09, 2014
Elika Real Estate, which is the first and only exclusive buyers brokerage in Manhattan, has released a new book to help guide first-time home buyers through all the challenges of the New York real estate market. The book covers everything buyers need to know in order to find their first home, including how to prepare, what makes New York City real estate different from anywhere else in the world, and how to secure financing to purchase a home.
In an interview about the book, Gea Elika, founder and principal broker of Elika Real Estate, said "buying a home for the first time in any part of the country can be an exciting but stressful experience. But because New York City has the highest cost of living in the United States, as well as a real estate market with increased competition from foreign buyers, it's easy for first-time New York homebuyers to get completely overwhelmed." He continued, "we wrote this book to help buyers get a realistic idea of what to expect. By setting the right expectations for this process, as well as knowing what to do and what to avoid, it is possible for buyers to find a home within their budget that fits their needs."
Elika Real Estate was founded in 2008. The firm is an exclusive buyers agency, and is the only Manhattan based buyers brokerage associated with the NAEBA (National Association of Buyer Agents). The firm's other accreditations and associations include Certified Negotiation Expert (CNE), Accredited Buyers Representative (ABR), Real Estate Board of New York (REBNY) and Real Estate Buyer Agency Council (REBAC).
Over the past two years, Elika Real Estate has been featured in a variety of media publications, including The NY Times, The Real Deal, The Wall Street Journal, Brick Underground, Epoch Times, RTVI, Finweek and Mann Report.
For more information about Elika Real Estate's Home Buyers Handbook, please visit #book landing page http://www.elikarealestate.com/blog/buy-home-nyc/ or contact Gea Elika at 212-590-0545.