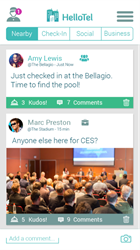 HelloTel App is a new, revolutionary way for hotel guests to interact with one another all before even meeting in person.
Los Angeles, CA (PRWEB) October 08, 2014
Available today on iOS (Download Now) and launching for Android in November, HelloTel App allows hotel guests to "check-in" and connect directly with fellow travelers who are staying at the same or nearby resort or hotel.
"HelloTel App is a new, revolutionary way for hotel guests to interact with one another all before even meeting in person," said HelloTel App CEO & Founder Marc Preston. "We wanted to not only connect like minded leisure & business travelers but to also bring large groups of people together who already share a common interest in travel."
Once registered, members will be able to check-in to their hotels and start interacting with fellow travelers in a specific area. HelloTel App allows users to post photos and status updates like "Just checked in, does anyone want to meet in the lobby bar?" for either everyone staying at the same hotel or other near-by hotels. If someone likes what was posted, they can send kudos, post a comment or direct message the original poster.
Business travelers will also be able to benefit from HelloTel App by connecting with their fellow road warriors. Guests who are traveling for work are able to set their posts for "Business" and will be able to meet up for drinks, coffee or a power lunch meeting with one another.
Similar to a friends list, HelloTel App allows members to follow one another by marking them as a "Favorite." Once saved as a favorite, HelloTel App users will be able to access their favorites list even when they are not checked into a hotel or have returned home.
Hotels have a unique opportunity to connect with their guests via the HelloTel App backend by providing all the amenities the hotel offers through the app like room service, booking a show, VIP services, restaurant reservations and much more. Contact hotels(at)hellotelapp(dot)com for more information.
Users can download HelloTel App on iPhone and register in just seconds. The free app is available for download now for iPhones on the iOS App Store at https://itunes.apple.com/us/app/hellotel-app/id923547336?mt=8&uo=4. An android version of the app will be launching in November 2014.
About HelloTel App
Launched in October 2014, HelloTel App is a mobile application available now on iOS and will be available on Android in November. HelloTel App connects hotel guests together like never before by allowing them to post comments & photos and direct message each other.
MEDIA CONTACT
Matt Kovacs/Nick Valente
BLAZE PR
(310) 395-5050
mkovacs(at)blazepr(dot)com / nvalente(at)blazepr(dot)com
HelloTel App Contact
General Inquires
(530) 636-6361
info(at)hellotelapp(dot)com
Hotel Opportunities
hotels(at)hellotelapp(dot)com