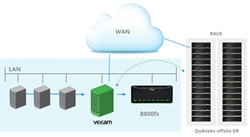 'The Drobo's flexibility and feature set offer tremendous value. The B-series product line delivers a much richer feature set compared to less expensive devices.' - Andrew Rich - Quikteks, Owner and CEO
Fairfield, NJ (PRWEB) October 13, 2014
Quikteks is a full service network integration company specializing in IT services for small and medium-sized businesses. The company provides everything from help desk to full project and network implementation services. Quikteks' Data Backup and Disaster Recovery service ensures that a customer's data is continually archived and protected, and ready to restore at a moment's notice.
Challenge
Back when it was popular, Quikteks had been using tape as its backup media. With a desire to stay ahead of the curve, get away from tape and move to a disk space solution, Quikteks began the search for something more reliable, cost-effective and dependable, particularly for virtual backups. Everything Quikteks sells to customers is first tested and used in-house. The Quikteks team determined they would use Veeam as the backup software solution. The next step was to find a target for the images so live backups are available for fast and efficient recovery.
Solution
Quikteks tested a number of solutions internally and determined that Drobo by far provided the best value. Drobo made the most sense in terms of cost and function. Drobo enables the Quikteks team to store full server images to the device, allowing flexibility in terms of what they do with it once it is there. In an emergency, Quikteks can redirect end users from the failed image or server to the Drobo to get the customer up and running very quickly. The Drobo Sync feature, available on the Drobo B800fs, provides another layer of protection for Quikteks customers by allowing them to replicate backups to Quikteks. Quikteks also uses Veeam's cloud backup capability to provide additional protection. With Drobo, Quikteks can offer clients an Enterprise class disaster recovery solution, but at a small business price.
Results
The Drobo B800fs has enabled Quikteks to provide all its customers with a standard, image-based disaster recovery capability. Drobo combinations are powerful for Quikteks because they allow a full image backup of Quikteks' client servers. Quikteks can initiate a bare metal restore of those servers by taking the image off the Drobo and putting it on any other server. Through this process, a customer's total down time is only a few minutes. There is no need to rebuild the hardware, reinstall the software and then bring the data in. Quikteks' solution with Drobo has helped Quikteks grow its business and deliver state-of-the-art systems to its customers. Quikteks deployed 30-40 disaster recovery solutions with Drobo so far. They plan to roll out 80-100 more over the next year. In short, Drobo has delivered exactly what Quikteks needed to provide a reliable and cost effective solution to Quikteks customers.