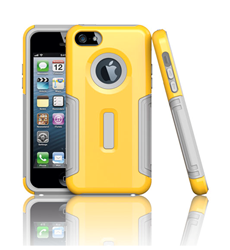 "Exclusive G-Force cases for iPhone 5 from Sunrise Hitek are extremely attractive, available in 10 pearlized metallic colors and also the ultimate in function and durability."
Chicago, IL (PRWEB) October 14, 2014
Exclusive G-Force cases for iPhone 5 https://uuberstore.com/product/g-force-iphone-5-5c-5s from Sunrise Hitek are extremely attractive, available in 10 pearlized metallic colors and also the ultimate in function and durability. The G-Force features rugged two-layer protection in a thin-profile design with excellent grip in hand, without turning your pocket inside-out. The two-piece rugged design with inner silicone layer plus outer hard shell protects the phone from all angles, sides, and corners and protects the phone from all angles, sides and corners. While traditional rugged cases such as Otterbox and Griffin are thick and heavy, the G-Force offers top notch protection while maintaining the iPhone's slim profile, yet still super rugged.
These cases are scheduled to ship on October 13th.
About Sunrise Hitek
Sunrise Hitek's üuber store, formerly known as iGear, is a leading maker of protective gear for Apple's iPad. The brand changed to üuber when the company starting developing cases for other devices, such as the MacBook, Chromebook, and Samsung devices. Sunrise Hitek Group, LLC, owner of the üuber brand, also operates Sunrise Digital, a leading digital printing company based in Chicago. As a G7 Qualified Master Printer, Sunrise is uniquely qualified among protective gear makers to offer a wide array of customization options, ensuring the most consistent and accurate color reproduction. Sunrise is an Inc. 5000 company established in 1988 and employs the most advanced equipment and technology, such as G7-certified HP Indigo and UV flatbed presses, and digital die-cutting, to create best-in-class products. A privately-owned enterprise, the company is based in Chicago and sells products worldwide.