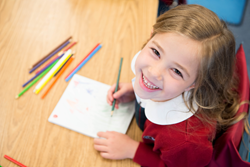 We are known for our outstanding liberal arts curriculum. In fact, Waterford's Class of 2014 had the highest percentage of merit scholars in the State of Utah
Sandy, Utah (PRWEB) October 09, 2014
The Waterford School, located at 1480 East 9400 South in Sandy, Utah, will host an Open House, Thursday, October 23 between the hours of 8 a.m. and 11 a.m.
This event will showcase Waterford's 40-acre campus, highlighting the school's exceptional academic and arts programs. Interested parents and students are invited to come and learn more about Waterford's curriculum, student life and the application process. Time will be available after campus tours to meet members of the faculty and administration as well as current parents.
"The Admissions Open House is the perfect opportunity to learn more about what makes Waterford so special," said Todd Winters, Waterford's Director of Admissions. "We are known for our outstanding liberal arts curriculum. In fact, Waterford's Class of 2014 had the highest percentage of merit scholars in the State of Utah, and 100 percent of graduates were accepted to competitive colleges and universities. But, the most compelling thing about Waterford is the feeling when you visit the campus. From preschool through high school students are engaged, challenged and excited about learning. We invite you to join us at our Open House and see for yourself."
Founded in 1981, The Waterford School is a private liberal arts, college-preparatory school for students in preschool through grade 12. Bus service is available from downtown Salt Lake City, Olympus Cove, Utah County and Park City. For more information, please call 801-816-2203 or visit http://waterfordschool.org/admissions/open-house/.