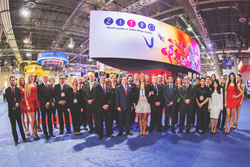 "Zitro offers players a truly unforgettable and rewarding bingo gaming experience" Sam Basile, CEO Zitro USA
(PRWEB) October 10, 2014
Zitro Revolution 2014 was one of the stars at the G2E exhibition with all its new features: community games, new functionalities and new titles. Meanwhile, Zitro Interactive Division showed off its new products designed for the online market through http://www.worldofbingo.com, the no. 1 video bingo on Facebook.
This year the company is focusing its position in the US market through its subsidiary, Zitro USA. "Zitro has the best bingo product in the industry: it is unique, entertaining, certified and ready to transform gaming floors across the US. Zitro offers players a truly unforgettable and rewarding bingo gaming experience," said Sam Basile, CEO of Zitro USA.
With its successful appearance at G2E, Zitro has continued to build on the momentum and commitment to its US expansion with successful appearances at the Oklahoma Indian Gaming Association and the National Indian Gaming Association exhibitions earlier this year.
About Zitro USA: 
Zitro USA is a wholly owned US subsidiary of Zitro, with global headquarters based in Madrid, Spain. Led by Mr. Johnny Ortiz, Zitro has developed and manufactured the world's most exciting and profitable electronic bingo games since 2007.
About Zitro Interactive:
Zitro Interactive is the online gaming division of Zitro. Zitro Interactive is a multi-discipline team of more than forty specialists in state-of-the-art digital technologies. Zitro Interactive focuses its developments on providing the best possible gaming experience on digital media, adapting its products in the very best way to the peculiarities of each platform used.
For more information, please visit http://www.zitrogames.com/en.