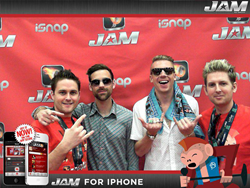 Our users are so passionate and engaged," said DreamWalk General Manager Joseph Russell. "It really makes sense to listen to them and adapt accordingly.
Melbourne, Australia (PRWEB) October 10, 2014
As of today, wannabe rock stars around the world will be jamming out even sweeter tunes as DreamWalk Interactive, developer of the popular iOS app 'Jam for iPhone' release a major new update with a plethora of new tools and features.
Last year (2013) DreamWalk's innovative music creation game was downloaded by half a million users around the world, reached the number 1 spot on the App Store in 26 countries and was widely praised by users and the media alike. Jam was a standout at MacWorld in San Francisco, grabbed media attention at SXSW in Texas with guest Jammers Macklemore and Ryan Lewis and even had Model Alexa Chung creating instant hits. Now, a year later, DreamWalk have listened to their users and are releasing Jam 3.0 with a range of new features inspired by user feedback.
Among the new 3.0 features are:

Localization in Chinese, Japanese, Korean and Spanish to bring more of the World's rock stars together
Battle mode: Allows users to compete against one another in public Jam showdowns with winners judged by their peers.
Channel Mixer that enables Jammers to change the volumes of individual instruments in their tracks to make their own custom mixes.
A new Post-Pay business model allowing users to try new musical style packs before they purchase them.
New Style Packs to give Jammers more variety in their Jams.
Jam is currently available for free on the iTunes App Store with the 3.0 update out today.
About DreamWalk Interactive:
DreamWalk is a boutique app studio based in Melbourne, Australia. It was founded by brothers, Joe and Sam Russell in 2008 with the development the world's first commercial GPS treasure-hunting app, also called DreamWalk. DreamWalk's most recent game, Jam for iPhone, reached #1 on the App Store music app charts in 26 countries, was featured in dozens of publications and showcased at SXSW 2013.