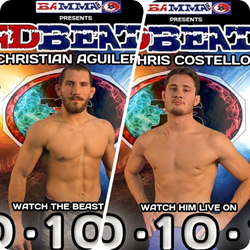 Tustin, CA (PRWEB) October 09, 2014
This Friday, October 10, BAMMA's Badbeat 13 will take place inside the Ballroom at The Commerce Casino in Commerce. The fight card has 14 fights planned for the evening where the best in MMA will come to fight for the Badbeat 13 title. Gyms around California will be represented by their top fighters hoping to make a name for themselves and progressing their MMA careers.
Don't miss out on this spectacular MMA event. Chris Pena, Christian "The Beast" Aguilera, and Chris Costello, will be representing Total MMA Studios. All are looking for wins, and are working together around the clock to train for one of the biggest cage fights of the year.
Chris Pena (3-2) will be taking on undefeated Mike Segura (2-0) in his Lightweight fight on Friday night. This is Chris's 3rd time fighting at a Badbeat event. Chris is highly looking forward to the fight and is excited for the close location providing everyone with a chance come support. Chris is ready to take the next step in his career, and is hoping this will help him get there. So far Chris is 1-1 at BAMMA Badbeat fights. He is coming off a win at KOTC-Slugfest in June, and aims to continue his winning streak.
Undefeated Christian Aguilera (2-0) will face Eric Steans Jr. (4-2) in his Lightweight fight on Friday. It has been 4 months since he's last been in the cage, and is amped and ready for this upcoming fight. Moving to 155 weight class, he has incessantly working hard to step up his cardio game, and is coming into this fight as a whole new person. His previous two wins are at BAMMA's Badbeat events and he looks forward to continuing his undefeated streak.
Chris Costello (3-2) will be fighting seasoned fighter Daniel McWilliams (11-26). This is Chris's fourth Badbeat fight, coming out with wins on the last two. His last cage fight was BAMMA's Badbeat 11, defeating Nick Reale. For this fight, he is moving up a weight class from 155 to 170. Chris has been working hard in the gym to put on the weight for this fight, and has worked non-stop to be absolutely unstoppable this weekend.
Badbeat 13 will be at Commerce Casino, Telegraph Rd, Commerce, CA 90040. Tickets are available on Ticketforce at http://tickets.ticketforce.com/eventperformances.asp?evt=1301. The doors open at 6pm, and the fights begin at 7pm. To purchase by phone call (877) 840-0457. Tickets will be avaible at Will Call starting at 5pm.
About Total MMA Studios and RGA
Total MMA Studios provides MMA fighters with a ground to test their merit and skills, and to provide MMA fight fans with an exciting and entertaining event. RGA is a printing and marketing company also located in Tustin, California and provides various companies with extensive marketing strategies and promotions. RGA Inc. is working with Total MMA Studios to grow their business, and to promote their events and exceptional martial art skills.