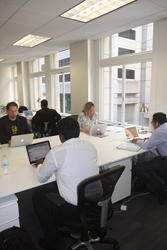 "We've been using Freshdesk to manage feature requests and support for a free service at Cisco, and we're thoroughly impressed with the desktop and mobile UI and the native apps," said Michael Whitley, Senior Manager, Software Dev Engineering at Cisco
San Francisco, CA (PRWEB) October 10, 2014
Freshdesk, the world's leading customer support software in the SaaS market, today announced it has signed up its 30,000th customer in just three years since launch: Cisco.
Freshdesk has tripled its customer base in the last twelve months. The rapid growth comes as a result of businesses of all sizes increasingly focusing on customer support. The platform was recently announced as a leader in the help desk software by G2 Crowd, a leading B2B marketplace.
"We've been using Freshdesk to manage feature requests and support for a free service at Cisco, and we're thoroughly impressed with the desktop and mobile UI and the native apps," said Michael Whitley, Senior Manager, Software Development Engineering at Cisco. "We love the robust ticketing features and the awesome support we get from the team."
In addition to Cisco, Freshdesk's growing list of customers, who are benefiting from the cloud based customer support software include Warby Parker, Verizon Wireless and Honda.
Remarking on this milestone, Girish Mathrubootham, CEO & Founder, Freshdesk said: "When we started out around three years ago, we wanted to build software that was affordable, user-friendly and puts the focus on making customers happy. We're glad that it's paying off" said Girish Mathrubootham, CEO, Freshdesk. "We'll continue to focus on helping businesses of all sizes deliver great support to their customers."
Freshdesk moved to a new office in San Francisco, and has ramped up hiring efforts there to support customers in its largest market. Earlier this year, the company launched its second product, Freshservice, an ITIL ready cloud-based service desk.
About Freshdesk:
Freshdesk makes customer happiness refreshingly easy. The company is headquartered in San Francisco, California and has a development center in Chennai, India. Launched in 2010, Freshdesk has over 30,000 customers across the world, including 3M, Cisco, Honda, Hugo Boss, University of Pennsylvania, The Atlantic, QuizUp and Petronas. The flagship product allows organizations to support customers through email, phone calls, websites, forums and social media channels. With powerful features, an easy to use interface and a freemium pricing model, Freshdesk is widely used by companies ranging from startups to enterprises. For more information, please visit http://www.freshdesk.com, http://blog.freshdesk.com or find us on Facebook: http://www.facebook.com/freshdesk or Twitter: @freshdesk.
Media Contact:
Anne Baker
Mobile: 760-809-7647
Anne(at)inkhouse(dot)com