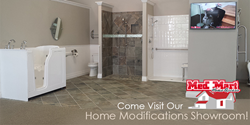 Everyone of us is proud to help our customers stay comfortable and independent in their homes
Cincinnati, OH (PRWEB) October 10, 2014
Queen City Med Mart celebrates the re-opening of their flagship store in Evendale, OH, on Friday, October 10, 2014. Med Mart is proud to announce the re-opening of their premier medical equipment showroom. Med Mart is the leading provider of medical equipment in the Tri-State area. They are inviting the public to visit the newly remodeled showroom and take advantage of special pricing offers that extend throughout the Columbus Day weekend.
Med Mart has a deep passion for ensuring mobility and independence. This passion to see people age with dignity and maintain independence is what drove the complete remodeling and expansion of their store. The new showroom boasts more than 10,000 square feet of displays includes state of the art power wheelchairs, stair lifts, lift chairs, home elevators, and more. Barrier-free roll in showers, walk in tubs, and grab bars are also on display. MedMart is one of the largest home medical equipment showrooms in the Midwest. The staff at Med Mart is trained to provide the best advice on aging in place, and maintaining freedom and dignity.
David Fesman, whose family founded Med Mart, is proud of the positive impact that the firm has had on Tri-State families over the years. "Our staff is incredibly loyal, and they're committed to finding the right solutions for everyone who walks in the door. Even in the rare case where we're unable to provide the perfect equipment, we happily refer you to someone who can help. Every one of us is proud to help our customers stay comfortable and independent in their own homes."
Queen City Med Mart is a locally owned and operated home medical equipment company that has been serving the Tri-State area for over 20 years. Their main product lines include home elevators, power wheelchairs, stair lifts, and lift chairs. They are one of the largest and most diverse home medical equipment stores in the Midwest, and pride themselves on providing an individualized approach to serving their client's needs. MedMart's highly trained and licensed staff is committed to providing a remarkable experience as they serve their clients.