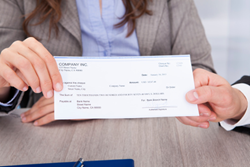 Atlanta, GA (PRWEB) October 13, 2014
AQuickDelivery, a recognized leader for same-day delivery, messenger and transportation services announces weekly payroll delivery solutions. The announcement comes as an effort to meet the weekly payroll distribution needs of its corporate clients and to expand its current business markets. AQuickDelivery continues to pursue to be the best choice for one-stop courier logistics and solutions nationwide.
AQuickDelivery will retrieve and manage all of their clients' inbound and outbound payroll distribution between its clients' office locations. AQuickDelivery can pick-up and/or deliver payroll within the 13-County Atlanta metro areas, as well as any special long-distance payroll deliveries. Not only can businesses with multiple locations receive affordable inter-office payroll deliveries, but even weekly routes. This type of convenience in service enables its' clients to increase their payroll operational inefficiencies and employee optimization.
The Atlanta courier offers payroll distribution services on a weekly scheduled delivery basis, whether it is at the beginning or end of the week. Customers will have the option of their weekly payroll delivery solution to be set up any time of day. For any exception payroll deliveries, AQuickDelivery is available for its' clients on an on-demand basis also. Any new clients and account holders are welcome to contact AQuickDelivery via phone or online to discuss their same-day delivery requests. AQuickDelivery is also available 24/7 to assist its' customers with any payroll service questions, tracking or change-of-address assistance.
AQuickDelivery is a premier same-day courier offering transportation and distribution services. From small packages to palletized freight, AQuickDelivery delivers fast. As a leader in the courier industry, its' goal is to perform optimal courier logistic solutions and superior customer service every time. The courier service provides same-day delivery successfully for over 1,500 clients, including Fortune 500 companies throughout the Georgia area.