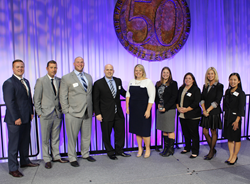 From our corporate office, to our leasing staff, to our maintenance personnel, we have a solid team in place that allow us grow within the Central Ohio market.
Columbus, Ohio (PRWEB) October 13, 2014
Champion Real Estate Services, a fully-integrated, multi-family investment firm, has been named the ninth-place winner of the 2014 Columbus Business First Fast 50 award. This is the third consecutive year the company has been a Fast 50 award honoree, ranking No. 3 in 2012 and No. 5 in 2013. This award recognizes year-over-year growth in privately-held companies based in Central Ohio.
"We are very excited and proud to have secured a spot in the top 10 of the Fast 50 list three years in a row," Brian Yeager, Champion president and CEO, said. "The Fast 50 list is comprised of some of Central Ohio's finest companies and it is truly an honor to be recognized among them."
The Fast 50 award is given based on three years of revenue growth with honorees' financial results verified by accounting firm GBQ Partners. Nominees had to have an average of at least $1 million in annual sales for the three most recent fiscal years. Champion's average sales growth in the previous three years was recorded in the 200 to 499 percent range.
"Since our inception in 2010, Champion has experienced rapid growth," Yeager added. "We are very fortunate to have a team of great people that work hard every day to support our growth. From our corporate office, to our leasing staff, to our maintenance personnel, we have a solid team in place that allow us grow within the Central Ohio market."
Co-founder and COO, Michelle Yeager-Thornton, agrees that Champion's success can be attributed to its employees. "Our company has grown from roughly 128 apartments and two communities in 2010 to more than 4,100 apartments across 15 communities today," she said. "We have experienced tremendous growth and our people, our 75 team members, are what have made that growth possible."
"We would not be where we are today without our team members," Yeager-Thornton added. "We have been awarded with this recognition thanks to the hard work and dedication of our Champion team."
Other 2014 Fast 50 winners include (in alphabetical order), 3 Pillar Homes LLC, Adept Marketing, Advanced Civil Design Inc., Advanced Engineering Consultants Ltd., Apeks Supercritical, Arcos LLC, Axia Consulting LLC, Choice Property Resources Inc., Cologix, Compass Homes Inc., CoverMyMeds LLC, Data Systems Integration Group, Dura Seal, Dynamit Technologies LLC, E-Cycle LLC, ERP Analysts Inc, Everhart Advisors, Excenture Business Solutions LLC, Farmer Lumpe & McClelland Advertising Agency, Goken America LLC, Hamilton Capital Management Inc., Happy Crafter LLC (dba Simon Says Stamp), Health Care DataWorks Inc., Improving Enterprises Inc., Juice Technologies LLC, King Memory LLC, Lancaster Pollard, Leading Edje LLC, Lightwell Inc., M3S Sports LLC, Medical Staffing Options Inc., MES Inc., Modular Assembly Innovations LLC, Navigator Management Partners LLC, Ohio Power Tool Inc., Overmyer Hall Associates, Pillar Technology Group LLC, Preferred Living, RevLocal Inc., Revolution Group Inc., Signature Closers LLC, Skyline Exhibits of Central Ohio LLC, Smart 1 Marketing, Trinity Health Group Ltd., Vargo Cos., Ventech Solutions Inc., Williams Interior Designs Inc., Yashco Systems Inc. and Zipline Logistics LLC.
About Champion Real Estate Services
Founded in 2010, Champion is a privately-held, fully-integrated, multi-family real estate firm. Champion is family-owned and operated and specializes in investment sales, property management and brokerage services in Central Ohio. Champion currently manages more than 4,100 apartments within 15 communities in the growing cities of Canal Winchester, Delaware, Dublin, Gahanna, Grove City, Hilliard, Lewis Center (Polaris), New Albany, Powell and Westerville. Champion has been recognized three years in a row as one of Central Ohio's fastest growing companies by Columbus Business First's Fast 50 list, ranking third in 2012, fifth in 2013 and ninth in 2014.