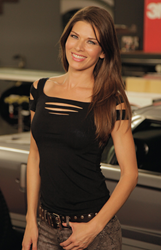 Seal Beach, CA (PRWEB) October 12, 2014
Adrienne Janic also known as "AJ" from the hit TV show Overhaulin', will make an appearance at OPGI's booth #23987 on Thursday, November 6 from 2:00 until 3:00 p.m. Overhaulin' is a weekly television program that brings viewers into the world of the iconic Foose Designs where Chip Foose and his dream team transform vehicles into the most amazing and imaginative automotives on television.
The renowned design legend Chip Foose delivers the ultimate combination of art, technology, and ingenuity on Overhaulin' - featuring his most inventive and original builds yet. Overhaulin' goes beyond the garage, exploring engaging human stories and the strong emotional connection between man and machine. The restoration projects feature deserving individuals ranging from returning veterans to those negatively impacted by the tough economy. Each altered auto becomes a life-changing surprise for its unknowing owner.
We are delighted that Adrienne Janic "AJ" is going to make an appearance at our booth on Thursday afternoon to sign autographs and answer your questions."
OPGI invites anyone attending the 2014 SEMA show in Las Vegas, Nevada to stop by their booth in the Restoration Marketplace Section in the Main Hall at booth # 23987 from 2:00-3:00 p.m. on Thursday to meet Adrienne Janic "AJ" in person.
For more information about OPGI products or SEMA plans, visit http://www.opgi.com or call toll free 800-243-8355 or e-mail: info(at)opgi(dot)com. To keep up with the very latest OPGI product introductions and company news connect on Facebook, Twitter, Pinterest or subscribe to OPGI's e-newsletter.