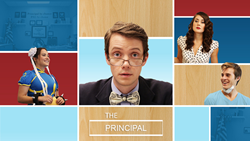 Salt Lake City, UT (PRWEB) October 13, 2014
Bullfrog Spas, a leading hot tub brand, announces the debut of The Principal, a humorous new 12-episode web series. The Principal is produced in-house and is being distributed by Bullfrog Spas for free online. The first episode is now viewable on The Principal website, a dedicated YouTube Channel as well as the Bullfrog Spas YouTube Channel.
The Principal tells the story of the lovable Principal Gary J. Foote and his staff and students at the fictional Brookfield High School, home of the Fighting Bullfrogs. It stars a cast of noteworthy and talented YouTube and Vine celebrities including: Eric Artell, Manon Mathews, Marcus Johns, and Lana McKissack.
In addition to the entertainment value of the series, viewers will be able to watch The Principal on YouTube and discover answers to questions that will help them enter Bullfrog's Free Hot Tub Giveaway, a sweepstakes that runs through late December 2014. Entrants will have the opportunity to win a new Bullfrog Spas Model R7 hot tub.
More information about The Principal is available at http://www.theprincipalseries.com/press or by contacting Bullfrog Spas.
About Bullfrog Spas
Bullfrog International manufactures and markets quality portable hot tubs with the patented JetPak Therapy System. JetPaks, exclusive to Bullfrog Spas, are modular jetted spa seats that can be interchanged at any time. JetPaks make Bullfrog Spas completely customizable and more energy efficient than conventional hot tubs. Founded in 1996, Bullfrog International is headquartered in the Salt Lake City, Utah metro area and distributes, licenses, and retails its products in the United States, Canada, Australia, New Zealand, Asia, and Europe.
Executives, including Jerry Pasley, CEO of Bullfrog International, are available for interview.