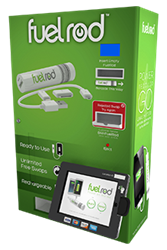 San Diego, Calif (PRWEB) October 13, 2014
Extending its market test that started in July at the San Diego Convention Center, FuelRod™, a San Diego-based technology company, is deploying its patented mobile-device-charger vending machines at the San Diego International Airport. The machines offer airport patrons the ability to purchase and exchange 'ready-to-use,' portable charging systems, known as FuelRods. A FuelRod can be used to charge cell phones and other mobile devices without the need for an electrical outlet. As a part of the test, theFuelRod vending machines will be deployed in Terminal 1 and Terminal 2 of the airport.
"We are thrilled to expand the FuelRod market test in partnership with the San Diego International Airport" said FuelRod™ spokesperson Joe Yeagley. "With vending machine installations throughout the airport, we look forward to offering easily accessible portable power to San Diego travelers."
FuelRod™ mobile-device-chargers offer enough to fully charge a smart phone or greatly extend the use of most popular tablets. Priced at $20 per system, each FuelRod™ initially comes with a starter kit, including connectors for both Android and Apple-based devices. Once used, the FuelRod™ can be recharged in any standard electrical outlet or exchanged at a FuelRod vending machine for a fresh, ready-to-use system -- at no additional cost.
"No longer do passengers have to sit tethered to a wall socket waiting for their mobile phones and tablets to recharge," said Thella F. Bowens, President/CEO of San Diego International Airport. "Now they can simply grab a FuelRod and go. Then, once they're done, they can swap the used FuelRod for a fully charged one."
During this test, the company expects to install a total of 13 vending machines at the airport. The first units were deployed and available to customers on September 29th. The remaining units are expected to be operational by the end of the year.
About FuelRod
San Diego, California based FuelRod develops efficient and environmentally conscious solutions that provide power for portable and battery operated devices. Founded in 2010, the company offers battery solutions servicing a wide range of product applications from cell phones and tablets, to flashlights and remote control toys. FuelRod keeps power accessible on the go, and keeps batteries out of landfills to support a cleaner more productive planet. For more information visit, http://www.fuel-rod.com.
About the San Diego County Regional Airport Authority
The San Diego County Regional Airport Authority was created on January 1, 2003, as an independent agency to manage the day-to-day operations of San Diego International Airport and address the region's long-term air transportation needs. For more information, visit http://www.san.org.
###