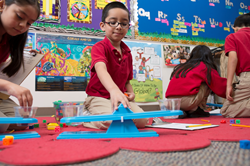 Dallas, Texas (PRWEB) October 13, 2014
Momentous Institute, a leading provider of education and therapeutic services to children and families, released findings today revealing that students who learned to show empathy toward others experienced improved reading and math skills. These findings are a result of a students' long-term exposure to social and emotional health strategies that focus on mindful awareness, empathy, and perspective-taking with applied exercises (e.g. regularly scheduled brain breaks and volunteering in the community).
"This study links social and emotional health with improved academics," said Michelle Kinder, Executive Director of Momentous Institute. "It's hard to find someone against social emotional health, but plenty people still think of it as fluff. We have seen for a long time that attending to social emotional health prepares children for learning. This research now demonstrates that a strong focus on social and emotional health can make a meaningful difference in a child's academic performance."
Karen Thierry, Momentous Institute's Director of Education Research, explained "The four-year research study examined multiple factors that could contribute to students' academic performance, including demographic characteristics of the students and their families, positive classroom behaviors, such as turning in work on time, and empathy. Of all these factors, empathy was identified as a unique predictor of fifth grade students' math and reading scores. We are now researching the specific strategies that parents and teachers can employ to help build empathy in the children in their life."
What Did the Momentous Institute Study Find?
Momentous Institute conducted an in-depth study in its laboratory elementary school with a group of 117 students. Students experienced one, two, three, or four years of the social emotional health program. The majority of students were Hispanic (92 percent) and of low socioeconomic status (68 percent). Key findings include:

For students in the three-year group, empathy was a positive predictor of reading test scores. For students in the four-year group, empathy was a positive predictor of both reading and math test scores. Empathy was a unique predictor even when controlling for general positive classroom behaviors (e.g., following directions, turning in work on time).
The study suggests that students need certain levels of empathy before it becomes predictive of academic performance.
Students exhibited improvements in social and emotional well being after one year of exposure to the same social and emotional health strategies. The research indicated further improvements in social and emotional well being for students who had three to four consecutive years of exposure to the strategies, compared to those with only one year of exposure.
Full study details are available upon request from [email protected]
About Momentous Institute
Momentous Institute, powered by the Salesmanship Club of Dallas, has been building and repairing social emotional health for over 90 years. The organization serves 7,000 kids and family members directly each year through mental health and education programs. The organization is expanding its reach by investing in training and research and sharing strategies with thousands of teachers and mental health professionals across the country. The combined support of Salesmanship Club of Dallas, the AT&T Byron Nelson Championship, corporations, individuals, and foundations power these efforts and truly change the odds for kids in our community and beyond. For more information, visit momentousinstitute.org.