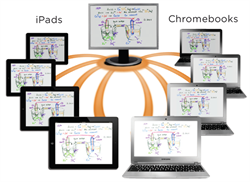 Splashtop allows anyone to move freely around a room and interact with participants, no matter how small or large – adding tremendous impact to ANY presentation
San Jose, CA (PRWEB) October 21, 2014
Splashtop Inc., the worldwide leader in cross-device computing and collaboration, today announced that Sharp Electronics Corporation has added Splashtop as a Strategic Technology Alliance Resource (STAR) member. With this announcement, users using Sharp AQUOS BOARD interactive display systems can now greatly extend their presentation features by using S plashtop Classroom and Splashtop Mirroring360 products to control, annotate and present content—and share ideas—from anywhere in the room using their device of choice.
Present from anywhere in the room then share content with others – including Chromebooks
Splashtop Classroom allows presenters to control, annotate then share their content—including Keynote or Powerpoint presentations, as well as existing Windows or Mac applications—to all participants devices including Chromebooks, iPads, Android, Windows PCs and Macs. The latest release includes new features such as: cloud support, streaming audio along with the video and the ability for multiple participants to control the presenter's screen directly from their mobile device.
Mirror Chromebook Screens - Just Like Airplay
Splashtop Mirroring360, introduced in June, is being used by thousands of presenters to display their iOS screens wirelessly to a projector using their PC or Mac without the need for Apple TV or cables. With this latest update, participants can now also mirror their Chromebook and Mac screens to the presenter's computer - increasing audience engagement.
When a Sharp AQUOS BOARD interactive display is used with Splashtop Mirroring360 and Classroom, it creates an ideal presentation platform for many users including:

Educators who want to engage their students more effectively while improving classroom management - invaluable for visually/hearing impaired or disabled students
Sales executives who want to wow an audience by turning their mobile device into the ultimate presentation device, while staying in control of their presentation
Instructors have the ability to enable audience members to answers questions directly on an iPad, Chromebook, Android, Mac or Windows device—without coming to the front of the room
Trainers looking to be more effective by allowing trainee participation with the content from their seat
IT teams who need to manage and support hundreds of users by using either cloud or on-premise solutions
"We are excited to become a part of Sharp's STAR Program to empower presenters and participants using Chromebooks, iPads, Android and other devices", said Mark Lee, CEO and President, Splashtop. "Together with the Sharp AQUOS BOARD display, Splashtop allows anyone to move freely around a room and interact with participants, no matter how small or large—adding tremendous impact to ANY presentation!"
Mirroring360 and Splashtop Classroom in action - http://youtu.be/xSeevcf280Y
To start a trial or to learn more- http://education.splashtop.com
To view full specifications and features of the SHARP Aquos Board display - http://www.sharpusa.com/aquosboard
About Splashtop
Splashtop Inc. delivers the best-in-class cross-screen productivity and collaboration experience, bridging smartphones, tablets, computers, TVs, and clouds. Splashtop remote desktop services enable people to access and control their favorite apps, files, and data via their mobile devices. More than 16 million people have downloaded Splashtop products from app stores, and manufacturing partners including HP, Lenovo, Dell, Acer, Sony, Asus, Toshiba, AMD, Intel and others have shipped Splashtop on more than 100 million devices.
This top performing remote desktop and application access solution is a faster, easier, more cost effective way to address mobile VPN compatibility issues and RDP over WAN. Splashtop has won the prestigious "Most Innovative Product" award from PC World, "Best of What's New" from Popular Science, "Best of 2012 CES" award from LAPTOP Magazine, and is a 2013 Red Herring 100 North America finalist. Splashtop is distributed through MDM / MAM partners and additional resellers. The company is headquartered in San Jose, California with international offices in China, Japan, and Taiwan. For more information visit http://www.splashtop.com.
All brand names and product names are trademarks or registered trademarks of their respective companies.