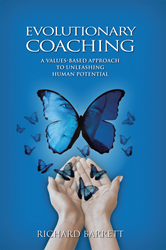 No matter the type of coach you are, it is important to recognize that every individual you are working with is on an evolutionary journey.
LONDON (PRWEB) October 14, 2014
As an internationally recognized thought leader on leadership, values and culture, Richard Barrett has dedicated his life to creating tools that support individuals and organizations in finding success. His latest contribution, "Evolutionary Coaching," is specifically written for coaches and caring professionals who are seeking ways to support the healthy psychological growth of their clients.
Everything you need to know about the practice of evolutionary coaching is included in his book. Part one describes the seven stages of psychological development. Part two shows you how to identify the stage of psychological development you are at, and what stages you have passed through where you still have unmet needs. Finally, part three describes the skills and techniques that you need to be familiar with to become a successful evolutionary coach.
"No matter the type of coach you are, it is important to recognize that every individual you are working with is on an evolutionary journey," Barrett said. "Evolutionary Coaching" provides an overarching framework for understanding the goals and objectives that individuals are seeking to attain at every stage of their lives."
For more information, visit evolutionarycoachingblog.wordpress.com
"Evolutionary Coaching: A Values-Based Approach to Unleashing Human Potential"
By Richard Barrett
ISBN: 978-1-4834-1178-1
Available in softcover and e-book formats
Available on Amazon U.S., Amazon U.K., Barnes & Noble and Lulu
About the author
Richard Barrett is an author, speaker and internationally recognized authority of personal and organizational development. He is the founder and chairman of the Barrett Values Center and creator of the internationally recognized Cultural Transformation Tools, which have been used to support more than 5,000 organizations and 4,000 leaders in 60 different countries on their transformational journeys. He has written numerous books including, "The Values-Driven Organization," "What My Soul Told Me," "The New Leadership Paradigm," and "Love, Fear and the Destiny of Nations." For more information on Richard's activities, visit richardbarrett.net