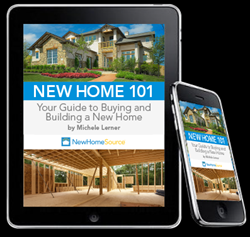 The book is geared in particular to people who've never bought a newly built home before. It's also a great resource for any first time homebuyer.
Austin, TX (PRWEB) October 14, 2014
Builders Digital Experience, Inc. (BDX) announced today that an important new eBook for home shoppers has been published by New Home Source and Michele Lerner, a leading real estate journalist.
New Home 101: Your Guide to Buying and Building a New Home, a comprehensive eBook for homebuyers, is now available at major online retailers and NewHomeSource.com, the leading resource for new home shoppers.
Written by Michele Lerner, an award-winning real estate writer, New Home 101 de-mystifies the key steps to a finding, purchasing and building a new home – including shopping online, visiting model homes, buying and financing a new home, and working with a builder to design and build a home. The author contributes to leading media that include New Home Source, The Washington Post, Fox Business, Yahoo! and MSN.
"I knew in early 2013 that we had to write this book for home shoppers," said Tim Costello, chief executive officer of BDX. "New Home Source surveyed recent buyers of new and used homes in more than 30 cities across the nation. One of the things we learned from the study really hit home: People who buy a newly built home feel happier when they move in than people who buy a resale home. This eBook helps demystify the whole process."
To help all home shoppers better understand the advantages of today's new homes, the book provides compelling answers to important questions that many homebuyers have.
"I interviewed approximately 60 builders, recent homebuyers, architects, Realtors®, mortgage lenders, insurance experts and others while researching and writing New Home 101," said Michele Lerner, the eBook's author. "The book is geared in particular to people who've never bought a newly built home before. It's also a great resource for any first time homebuyer."
Each chapter includes a summary of learnings, inspiring photos, compelling "PowerTip" and "Did You Know?" sidebars and checklists. Resource sections include links to search new homes on New Home Source, read additional articles there, and to visit leading websites helpful to the homebuyer.
To download a free copy of this important resource for homebuyers, visit NewHomeSource.com/eBook. For more information on the eBook, contact Jay McKenzie, Director of Content and Social Media for BDX, at jmckenzie(at)thebdx(dot)com or 512-651-8915.
About Builders Digital Experience
Builders Digital Experience, LLC (BDX), a joint venture between Move, Inc. (NASDAQ:MOVE) and Builder Homesite, Inc., was founded to combine the industry's leading new home resources under one roof and offer builders innovative online marketing options, streamlined customer service and support, and greater value. Capitalizing on over 13 years of building industry experience, BDX operates http://www.newhomesource.com and http://movenewhomes.com the leading new home websites, while also providing other services to builders, including video production, rich media rendering, mobile search, custom website production and more. For more information, visit http://www.thebdx.com.